• Kimetto to headline Fukuoka Int Marathon
» Monday, 26 October 2015

Article source:
Marathon world record holder Dennis Kimetto of Kenya will headline the men's elite field for the 2015 Fukuoka International Marathon on Dec. 6, the race organizers announced on Monday.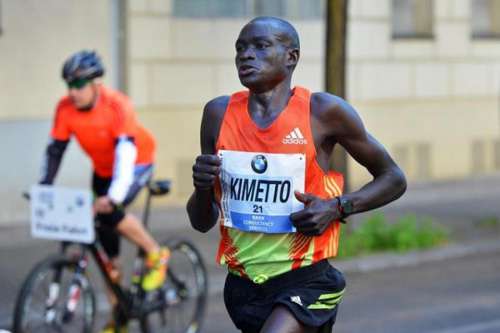 The 31 year-old Kimetto at last year's Berlin marathon crossing the line in 2:02:57 became the first man in history to dip under 2h and 3 minutes in the marathon.
The previous world record was held by his training partner Wilson Kipsang, who ran 2:03:23 at the 2013 Berlin Marathon.
In Fukuoka Japan, Kimetto will face world class field of Kenya's Bernard Koech (2:04:53) and Ethiopia's Getu Feleke (2:05:41). Also Patrick Makau, who holds a personal best of personal best of 2:03:38 since 2011 will line up on December 6.
Full elite athletes list (http://japanrunningnews.blogspot.it)

Dennis Kimetto (Kenya) - 2:02:57 (Berlin 2014)
Bernard Koech (Kenya) - 2:04:53 (Dubai 2013)
Getu Feleke (Ethiopia) - 2:05:41 (Vienna 2014)
Martin Mathathi (Kenya/Suzuki Hamamatsu AC) - 2:07:16 (Fukuoka Int'l 2013)
Yuki Kawauchi (Japan/Saitama Pref. Gov't) - 2:08:14 (Seoul Int'l 2013)
Amanuel Mesel (Eritrea) - 2:08:17 (Valencia 2013)
Patrick Makau (Kenya) - 2:08:22 (Fukuoka Int'l 2014)
Serhiy Lebid (Ukraine) - 2:08:32 (Seoul Int'l 2014)
Sero-Od Bat-Ochir (Mongolia/NTN) - 2:08:50 (Fukuoka Int'l 2014)
Koji Kobayashi (Japan/Subaru) - 2:08:51 (Tokyo 2014)
Joseph Gitau (Kenya/JFE Steel) - 2:09:00 (Fukuoka Int'l 2013)
Benjamin Ngandu (Kenya/Monteroza) - 2:09:18 (Tokyo 2015)
Cuthbert Nysasango (Zimbabwe) - 2:09:52 (Prague 2014)
Chiharu Takada (Japan/JR Higashi Nihon) - 2:10:03 (Fukuoka Int'l 2014)
Hiroki Kadota (Japan/Kanebo) - 2:10:46 (Beppu-Oita 2015)
Dylan Wykes (Canada) - 2:10:47 (Rotterdam 2012)
Chris Thompson (Great Britain) - 2:11:19 (London 2014)
Kazuki Tomaru (Japan/Toyota) - 2:11:25 (Berlin 2014)
Yoshiki Otsuka (Japan/Aichi Seiko) - 2:11:40 (Fukuoka Int'l 2014)
Paulo Roberto Paula (Brazil) - 2:11:40 (Moscow World Championships 2013)
Yuri Chechun (Russia) - 2:14:10 (Kazan 2015)
Dmitriy Safronov (Russia) - 2:14:16 (Kazan 2015)
Samuel Tsegay (Eritrea) - 2:14:41 (Moscow World Championships 2013)
Jose Amado Garcia (Guatemala) - 2:15:52 (Torreon 2012)