• Chumba and Kiplagat win Chicago Marathon

Posted by:
Watch Athletics
Sunday, 11 October 2015
Running in very windy weather conditions Kenyans Dickson Chumba and Florence Kiplagat were crowned championships at the 2015 Bank of America Chicago marathon on Sunday, October 11.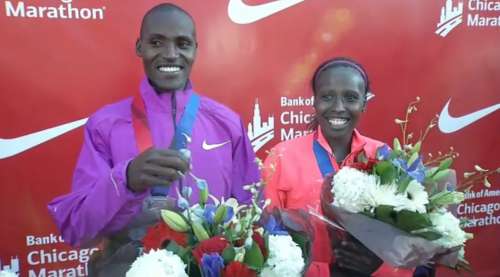 Dickson Chumba won the men's marathon crossing the line in 2:09.25. Second place took last last year's runner up Sammy Kitwara of Kenya, while compatriot Sammy Ndungu edged Abera Kuma of Ethiopia to take third place.
Top american runner was Luke Puskedra, who finihsed in 5th with a new personal best time of 2:10.33.
Last year's 3rd place finisher the world half marathon record holder Florence Kiplagat women the women's race. Kiplagat won the race with a time of 2:23.33 just 10 seconds ahead of Yebrgual Melese of Ethiopia. B irhane Dibaba of Ethiopia concluded the women's podium crossing the finish line after 2:24.24.
42-year-old Deena Kastor of the United States impressed with her 7th place finish and in new masters record of 2:27.47.
Sunday's race was the first without pace-setters, which officials said would result in a more competitive but slower event with record-breaking performances less likely.
Watch Florence Kiplagat interview
Top 10 men Results
Pos.


Name (CTZ)
Overall Pace
Diff
Time


1


Chumba, Dickson (KEN)
04:57
+00:00
02:09:25


2


Kitwara, Sammy (KEN)
04:58
+00:25
02:09:50


3


Ndungu, Sammy (KEN)
04:58
+00:41
02:10:06


4


Gebru, Girmay Birhanu (ETH)
04:58
+00:42
02:10:07


5


Puskedra, Luke (USA)
04:59
+00:59
02:10:24


6


Korir, Wesley (KEN)
04:59
+01:14
02:10:39


7


Kibet, Elkanah (USA)
05:01
+02:06
02:11:31


8


Rotich, Lucas (KEN)
05:06
+04:14
02:13:39


9


Kuma, Abera (ETH)
05:06
+04:19
02:13:44


10


Cabada, Fernando (USA)
05:11
+06:11
02:15:36
Top Women
| | | | | |
| --- | --- | --- | --- | --- |
| Pos. | Name (CTZ) | Overall Pace | Diff | Time |
| 1 | Kiplagat, Florence (KEN) | 05:29 | +00:00 | 02:23:33 |
| 2 | Melese, Yebrgual (ETH) | 05:29 | +00:10 | 02:23:43 |
| 3 | Dibaba, Birhane (ETH) | 05:31 | +00:51 | 02:24:24 |
| 4 | Fukushi, Kayoko (JPN) | 05:31 | +00:52 | 02:24:25 |
| 5 | Seboka, Mulu (ETH) | 05:31 | +01:07 | 02:24:40 |
| 6 | Assefa, Meskerem (ETH) | 05:33 | +01:38 | 02:25:11 |
| 7 | Kastor, Deena (USA) | 05:39 | +04:14 | 02:27:47 |
| 8 | Nukuri, Diane (BDI) | 05:42 | +05:40 | 02:29:13 |
| 9 | Draskau Petersson, Jessica (DEN) | 05:44 | +06:34 | 02:30:07 |
| 10 | Hall, Sara (USA) | 05:46 | +07:41 | 02:31:14 |