This Sunday approximately 30,000 runners took part in the 35th edition of Beijing Marathon despite controversy over high levels of air pollution.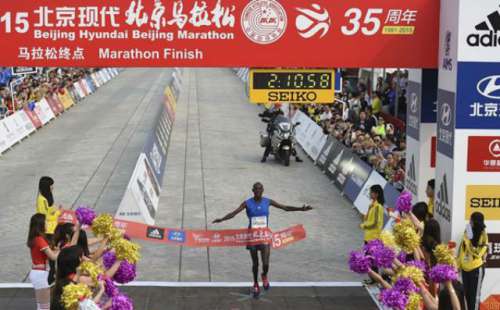 Beijing marathon organizers rejected calls from World Health Organizations to postpone the race, with thousands running in conditions which by far exceed maximum safe levels.
Despite all the smog covering Beijing, Kenya's 41-year old veteran Mariko Kipchumba posted a very solid 2:11.00 putting an end to the three-year Ethiopian winning streak on the course.
Pre-race favourite Ethiopian Berhanu Shiferaw finished second 37 seconds behind Kipchumba, while Wirimai Juwawo clocked 2:14:25 to take third place.
Ethiopian youngsters Betelhem Moges and Abebech Afework finished 1-2 in the women's race. Moges clocked 2:27:31, while second place finisher Afework crossed the line in 2:29:12. Sin Yong Sun of Korea concluded the podium in a new personal best time of 2:31:31.