World pole vault record holder Renaud Lavillenie, after disappointing performance at Beijing World Championships last week, managed to bounce back on Friday by wining the Salzburger City Jump pole vault competition with a new meeting record of 5.93m.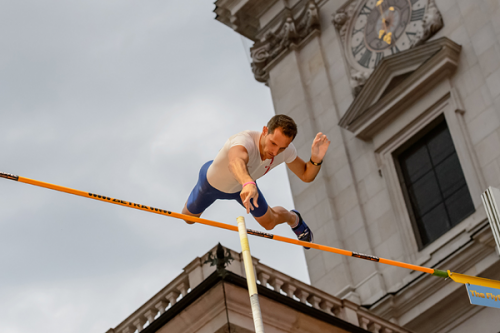 The event actually was held in support of the charity that has been set up for Kira Grunberg, the Austrian pole vaulter who was left quadriplegic after a training accident five weeks ago.
Lavillenie started the competition with 5.40m which he cleared with 1st attempt. The following heights of 5.50, 5.60m, 5.70m he cleared with 1st attempt, while 5.80m Lavillenie took with third attempt. Following height of 5.93m the Olympic champion took with 1st try setting a new Austrian all-comers' record.
"There are more important things than this competition, though," said Lavillenie, who after hearing about Grunberg' condition' agreed to participate at the event without any appearance money. "I am very proud to have dedicated this competition to Kira. I hope this will give her strength to fight and continue to grow as she does." he added.
The meeting organizers collected €18,000 for Grunberg and her family . This money came from the athletes' budget and donations by the spectators.
"It is amazing that a world-class athlete still gives it their all, even if no money is involved. This shows his great commitment and personality."said meeting director Karin Walkner.