• Kenya Tops Medal Table at World Athletics Championships in Bejing

Posted by:
Watch Athletics
Monday, 31 August 2015
Kenyan team concluded the 15th world athletics championships on top for the first time by winning seven gold medals.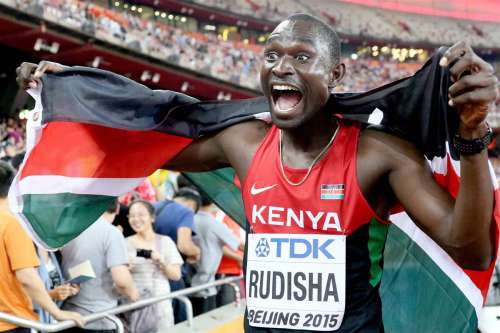 Kenyan athletes also won 7 silver and 3 bronze medals. Jamaican team placed second in the medal table ahead of the United States who finished in third place.
The last gold medal for Kenyans came on Sunday after Asbel Kiprop with a massive kick over the last 100m took home his third straight world 1500m title and secured Kenyan team's #1 spot in the medal table.
"I'm so proud of myself to become a member of this exclusive club of three-times world champions," said Kiprop after the race.
"Our young people have once again shown that they are as good as the world's best and brightest." Athletics Kenya president Uhuru Kenyatta tweeted.
Earlier last week, world record holder David Rudisha prevailed in the 800m, while Vivian Cheruiyot took the women's 10,000m title. Ezekiel Kemboi and Hyvin Jepkemoi took the men's and women's 3000m steeple crowns respectively. The most unexpected victory by Kenyan's came in the 400m hurdles by Nicholas Bett. As well fantastic performance demonstrated Julius Yego by claiming javelin gold with a massive throw over 92 meters.
Top 10 Medal Table - See full list here>>
| Rank | Country | Gold | Silver | Bronze | Total |
| --- | --- | --- | --- | --- | --- |
| 1 | KENYA | 7 | 6 | 3 | 16 |
| 2 | JAMAICA | 7 | 2 | 3 | 12 |
| 3 | UNITED STATES | 6 | 6 | 6 | 18 |
| 4 | GREAT BRITAIN & N.I. | 4 | 1 | 2 | 7 |
| 5 | ETHIOPIA | 3 | 3 | 2 | 8 |
| 6 | POLAND | 3 | 1 | 4 | 8 |
| 7 | CANADA | 2 | 3 | 3 | 8 |
| 7 | GERMANY | 2 | 3 | 3 | 8 |
| 9 | RUSSIA | 2 | 1 | 1 | 4 |
| 10 | CUBA | 2 | 1 | 0 | 3 |