• Highlights: World Championships Day 9

Posted by:
Watch Athletics
Sunday, 30 August 2015
World athletics championships Beijing day 9 highlights.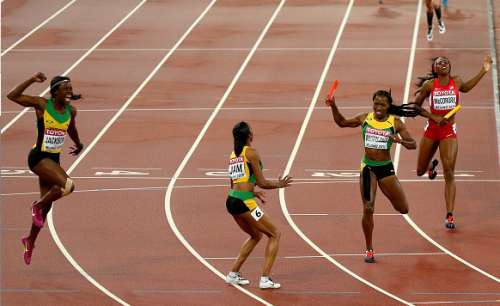 Jamaican women beat USA in the 4x400m final - Video

Pen ultimate event in these championships was women's 4x4000m relay. With lining up all four four individual 400m finalists Jamaican team prevailed over team USA to win the gold in a new world leading time of 3:19.13.
World one lap champion Allyson Felix running the third leg for the Americans posted 47.72 - the third fastest split in history.
Germany's Molitor take Javelin crown with the last throw
South African Sunette Viljoen was the leader after round four with 65.79m, but the Chinese thrower Lyu Huihui in the next round 5 moved to the top with a new Asian record performance of 66.13m. It was Germany's Katharina Molitor who took the gold in the last round with a massive 67.69m. At the end Viljonen improved her result moving Chinese thrower Huihui to third.
Drouin tops high jump - Video

Quite drama was in the men's high jump contest. There were five jumpers left when the bar reached 2.36m, but non of them were able to clear that height leaving Bogdan Bondarenko, Zhang Guowei and Derek Drouin tied for gold. All three were given 4th attempt at 2.36 in order to decide champion, but as they fould before the bar moved down to 2.34m height. Finally Canadian Drouin managed to clear 2,34m to win the gold, while Bondarenko and Zhang both fouled and tied for silver.
Ayana lead Ethiopian 5000m clean sweep - Video

World season leader Genzebe Dibaba entered the 5000m final as clear favorite after smashing world 1500m record last month and taking world title earlier this week. However Almaz Ayana had different thoughts in mind as she outran everyone in the field including Dibaba to win the women's 5000m gold in a new championships record of 14.26.83. Ayana managed to clock a mind blowing 8.19.91 for the last 3000m after taking the lead 2500m to the finish. At the end Dibaba took bronze after Senbere Teferi edged her on the line.
USA men win 8th world championships 4x400m gold - Video

LaShawn Merritt anchored team USA to it's 8th 4x400m world title, while Trinidad and Tobago who took bronze last night in the 4x100m finished took a surprise silver in a new national record time of 2:58.20.
It was Jamaica's Javon Francis who made the battle for bronze quite dramatic as he managed to put his team from fourth place to first 200m to go. But his incredible split of 43.52 was not good enough as he was caught on the line by Britain's anchor-man Martin Rooney. Although both teams clocked same time of 2:58.51 the photo finish camera showed Brits were ahead of Jamaicans by four thousandths of a second.
Three-peat for Kiprop - Video

Kenyan mid-distance star Asbel Kiprop took his third straight world championships gold. Olympic champion Taoufik Makhloufi attacked the field 200m to the finish, but Abdalaati Iguider over took the lead coming off the final curve. But its was Kiprop who said the last world, as he passed by four men in the final straight to win another 1500m gold. Meanwhile Kenyan youngster Elijah Manangoi managed to push Morocco's Iguider to bronze position by claiming silver for himself.