• Ashton Eaton breaks decathlon World Record, wins world championships gold

Posted by:
Watch Athletics
Saturday, 29 August 2015
American Ashton Eaton has broken his own world decathlon record at the world athletics championships in Beijing on Saturday, August 29.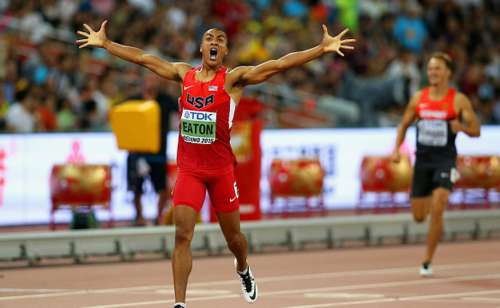 Eaton first broke the dectahlon world record at the 2012 USA Olympic Trials and then won the 2012 Olympic title in London.
Eaton needed to run the final event, the 1500m, in 4:18.25 to break his world record. The American clcoked 4:17.52 collapsing after finish line.
Ashton Eaton Results
POINTS
100 METRES
LONG JUMP
SHOT PUT
HIGH JUMP
400 METRES
110 METRES HURDLES
DISCUS THROW
POLE VAULT
JAVELIN THROW
1500 METRES
9045 WR
1040
10.23
-0.4
1030
7.88
0.0
760
14.52

813
2.01

1060
45.00

1015
13.69
-0.2
733
43.34

972
5.20

793
63.63

829
4:17.52