• Usain Bolt remains world's #1 sprinter as he beats Gatlin in 200m final

Posted by:
Watch Athletics
Thursday, 27 August 2015
World Championships Beijing - There is no more questions to answer - Usain Bolt remains the "King" of the sprints.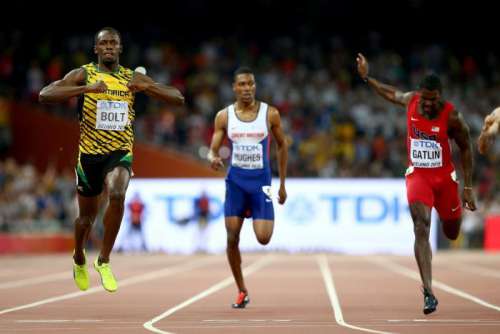 Jamaican Usain Bolt has beaten his biggest rival American Justin Gatlin in the men's 200m final in a new world leading time of 19.55 seconds. (watch Video Here)
Bolt coming into this championships had ran one sluggish 200m (20.17) in New York two months ago, but reigning world champion managed to put it together as he won his second gold in these championships.
"It's great, a fourth win over 200m and it means a lot to me. I'm happy to be a 10-time World Championships gold medallist, especially when people have been saying I would lose. For me I knew I had the utmost confidence. As long as my coach is confident I'm super confident. There was never a doubt that I would win this one. I'm number one. " said Bolt after the race.
Camera man takes out Bolt during his 200m celebrati0n. Luckily no injuries were reported.
OUCH! Usain Bolt Wins 200M Gold at World Championships.. Then is Taken Out By a Segway https://t.co/VfnYu8lwaR

— talkingbaws (@talkingbaws) August 27, 2015
Men's 200m Final Results