• Australia to send strong team of 42 athletes to Beijing world championships
Australian track and field federation will send 42 athletes to upcoming world championships in Beijing.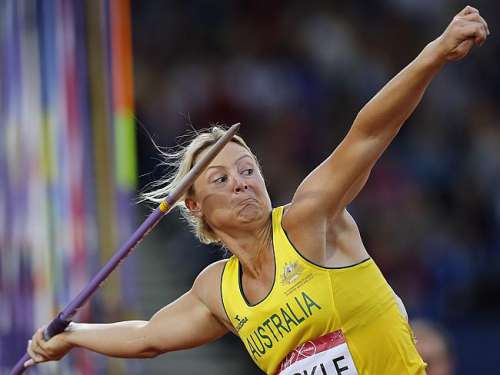 Australian team will be lead by 2013 World Championships medalists Kim Mickle and Jared Tallent, and 2014 Commonwealth games champions Eleanor Patterson, Alana Boyd and 2009 discus world champion Dani Samuels.
"Excitingly the team is likely to grow in the coming days as the IAAF extend invitations via their new roll down process. This will see the team edge toward the 46 athletes who competed in Moscow two years ago, which was the equal second largest ever team we have sent to an IAAF World Championships."
"It's exciting that we have selected the largest possible team from the athletes that were eligible and available for selection. This adheres to our selection philosophy of selecting the strongest possible Australian Flame team as we continue our preparations for the Rio 2016 Olympic Games in less than 12 months' time. The experience earned by our debutants will prove invaluable," said Dion Russell, Athletics Australia chairman of selectors.
Team Australia for Beijing World Championships
MEN
800m: Jeff Riseley, Joshua Ralph
5000m: Collis Birmingham, Brett Robinson
110m hurdles: Nicholas Hough
Long jump: Fabrice Lapierre
High jump: Joel Baden, Brandon Starc
Discus throw: Benn Harradine, Julian Wruck
Javelin: Hamish Peacock
20km race walk: Chris Erickson, Dane Bird-Smith, Jared Tallent
50km race walk: Chris Erickson, Jared Tallent
WOMEN
100m: Melissa Breen
200m: Ella Nelson
1500m: Melissa Duncan
5000m: Emily Brichacek, Madeline Heiner, Eloise Wellings
Marathon: Julia Degan, Sinead Diver, Sarah Klein
100m hurdles: Michelle Jenneke
400m hurdles: Lauren Wells
3000m steeplechase: Madeline Heiner, Genevieve LaCaze, Victoria Mitchell
High jump: Eleanor Patterson
Pole vault: Alana Boyd, Nina Kennedy
Long jump: Brooke Stratton
Discus throw: Dani Samuels
Javelin: Kim Mickle, Kathryn Mitchell, Kelsey-Lee Roberts
20km race walk: Kelly Ruddick Beki Smith, Rachel Tallent
4x400m: Jess Gulli, Morgan Mitchell, Lyndsay Pekin, Anneliese Rubie, Lauren Wells