• Liliya Shubukova's Ban Extended

Posted by:
Watch Athletics
Friday, 07 August 2015
Former Russian marathoner star Liliya Shobukhova's ban was extended by 14 months by the IAAF for doping based findings from her biological passport.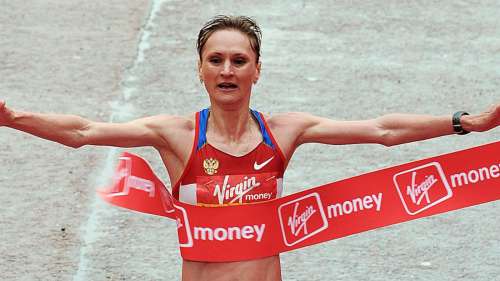 Originally the Russian athletics federation suspended Shobukhova for two years and it was to end in January, but the IAAF appealed to the Court of Arbitration for Sport, citing ''aggravating circumstances.''
IAAF has also removed all Shubukova's records starting from October 9, 2009 meaning that she is no longer the 2009, 2010, 2011 Chicago Marathon winner, neither is she the 2010 and 2011 London Marathon champion.
IAAF has informed the Chicago and London marathons that Shobukhova has been banned based on abnormality in her biological passport.
Last year news broke out about the doping based findings in Shubukova's biological passport and that the marathoner also paid to avoid the ban just before the 2012 London Olympics.
During the period from the 2009-2012 Shubukova won $1 million prize twice for winning two world marathon majors.
Chicago Tribune reports that the Chicago marathon wants to get back all the prize money and bonuses that the Russian marathoner won during that period. The report says that between 2009-2012 Shubukova received $265,000 in placement prize money and another $90,000 in time bonuses from Chicago marathon.
"In accordance with IAAF rule 40.8, the Chicago Marathon will not be responsible for retroactively paying athletes and re-allocating the prize money unless or until Shobukhova repays all of her prize money," Chicago Marathon organizers said in a statement.
Also the London marathon organizers wants all the prize money collected by the athlete back.
''We will take action through the English courts to recover the prize and appearance money paid to Shobukhova in 2010 and 2011,'' Nick Bitel, chief executive of the London Marathon, said in a statement.