Japans athletics federation announced on Tuesday it's team for this month's world championships in Beijing.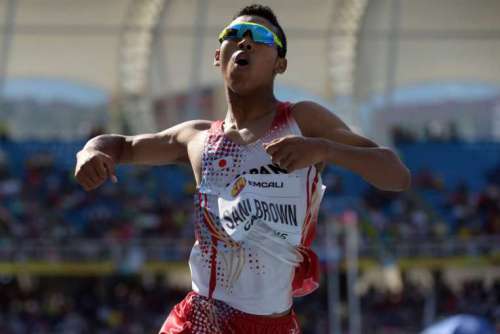 Japan's biggest hope for medal will be world record holder in the men's 20km race walk Yusuke Suzuki. Also on team and a hope for a high finish will be this year's Japan's sprint sensation Abdul Hakim Sani Brown who recently picked up 2 gold medals at world youth championships in Cali, Colombia.
Also Japan will be send strong team in distance running, marathon and men's 4x100m relay.
See athletes and their best marks.
MEN
100m: Kei Takase (10.09)
200m: Kenji Fujimitsu ( 20.13) , Abdul Hakim Sani Brown ( 20.34) ,Kei Takase (20.14 )
400m: Yuzo Kanemaru (45.16)
5000m: Kota Murayama , Suguru Osako (13:19.62) (13:08.40)
10,000m: Kenta Murayama ( 27:39.95), Yuta Shitara ( 27:42.71) , Tetsuya Yoroizaka ( 27:38.99)
Marathon: Masakazu Fujiwara (2:08:12), Kazuhiro Maeda ( 2:08:00)
400m hurdles: Takayuki Kishimoto (48.41) , Yuta Konishi (49.41), Yuki Matsushita ( 49.57)
High jump: Takashi Eto ( 2.28 m), Yuji Hiramatsu ( 2.28 m), Naoto Tobe (2.31 m)
Pole vault: Hiroki Ogita (5.70 m) , Seito Yamamoto ( 5.75 m)
Long jump: Yohei Sugai (8.18 m)
Javelin: Ryohei Arai (86.83 m)
Decathlon: Akihiko Nakamura (8035) , Keisuke Ushiro (8308)
20km race walk: Isamu Fujisawa ( 1:19:08), Yusuke Suzuki (1:16:36 - WR), Eiki Takahashi ( 1:18:03)
50km race walk: Hiroki Arai ( 3:40:34), Takayuki Tanii ( 3:40:19), Yuki Yamazaki ( 3:40:12)
4x100m: Kenji Fujimitsu, Takuya Nagata, Kazuma Oseto, Abdul Hakim Sani Brown, Kei Takase, Kotaro Taniguchi
WOMEN
100m: Chisato Fukushima (11.21)
200m: Chisato Fukushima (( 22.89)
5000m: Misaki Onishi ( 15:16.82) , Azusa Sumi (15:17.62), Ayuko Suzuki ( 15:14.96)
10,000m: Kasuma Nishihara ( 31:53.69), Rei Ohara (31:48.31), Yuka Takashima (31:37.32)
Marathon: Mai Ito ( 2:24:42), Sairi Maeda (2:22:480, Risa Shigetomo (2:23:23)
Javelin: Yuki Ebihara (63.80 m)
20km race walk: Kumiko Okada ( 1:29:46)