PRESS RELEASE: "Athens Marathon. The Authentic" to go ahead on November 8
Athens invites the World's Runners to support Greece

The "Athens Marathon. The Authentic" will present a very different face to the running world this year when the latest edition takes place on Sunday, November 8. In the light of the economic challenges facing the country and its people, the Hellenic Athletics Federation (SEGAS) has decided to forego the elite field in the marathon and concentrate on a race for mass runners, including the 5 and 10 km road races which complete the day's programme. Parts of the money saved will be used to further improve services and entertainment for the mass runners.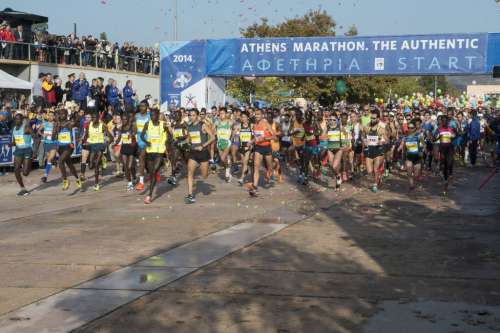 A record number of more than 16,000 runners are expected to participate in the Classic Authentic course from the town of Marathon to the 1896 Olympic Stadium in the heart of Athens. In total 43,000 runners are expected to take part in all the running events on offer. With this gesture, the organisers invite runners from around the world to run the Athens Marathon in solidarity with the Greek people at this testing time. Online entry for the marathon race is still available on the website at: www.athensauthenticmarathon.gr

The 9th edition of the AIMS Marathon Symposium will also take place on the same weekend. Its main theme will be "Doping Threats in Long Distance Running". Among the speakers there will be prominent specialists from AIMS, IAAF and WADA as well as marathon organisers and coaches.

The 3rd edition of the AIMS Best Marathon Runner Awards Gala will take place in Athens as well. The two World Marathon Champions which will be determined in Beijing later this month, the holders of the fastest times of the year plus possible world record breakers in the marathon and half marathon in 2015 are expected to be among the candidates for this prestigious award.

More information and online entry is available at: www.athensauthenticmarathon.gr

Please note: You may use the attached photo showing the start of the race in Marathon for online purposes in conjunction with this press release. Please credit: AMA
Image: AMA