Poland's Anita Włodarczyk broke her own world hammer throw record at Kamili Skolomwskiej Memorial in Poland on Saturday, August 1.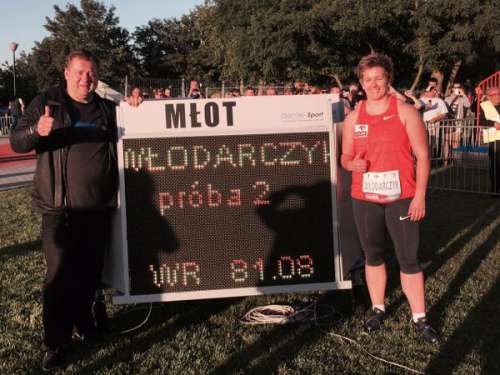 The 2009 world champion Włodarczyk in her second round threw a massive 81.08m beating her old world record of 79.83 from June.
The two time European champion Włodarczyk is the first women in history to throw hammer farther than 80m.
Here is Włodarczyk serie from Kamili Skolomwskiej Memorial - X 81.08 WL PB 79.07 78.53 76.61 77.83.
Poland's Piotr Malachowski set a new world leading mark in the men's discus. Olympic silver medalist Malachowski in the openning round threw 68.29m beating former Olympic champion Gerd Kanter of Estonia who threw 64.08m.