World's fastest man Usain Bolt, who managed to put together his best performance of 2015 on Friday night in London by running 9.87 to win the 100m at the Sainsbury's Anniversary Games, says that he will continue to be the King of sprints. Watch race video>>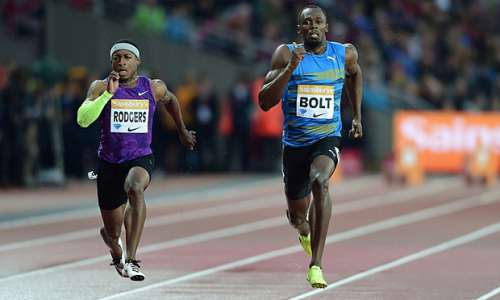 "I am still No 1. I will continue being No 1. Until I retire, that's the plan."Said 6-time Olympic champion Bolt.
Bolt proved that he is the man to beat on Friday night as he returned to action from injury by running 9.87 seconds into a headwind on a rain-soaked track twice within the span of an hour.
Even though his winning time was 0.13 slower than Justin Gatlin's world leading mark, Bolt proved that he has room for improvement before Beijing world championships which starts on August 22.
Bolt's preliminary race at Anniversary Games was more impressive as he managed to recover from a slow start to run 9.87 seconds into a -1.2 m/s headwind despite slowing down over the final 10 meters. Watch Video>>
"When I got a bad start, then I kind of lost focus for a minute and lost my form but at the last I got it back. It taught me a lot, these two races.
"I just need to remember if I have a bad start, then I need to focus on the work I have done and get the job done.
"I was not looking for any specific time but I know I could have gone faster if I had got my start."