Two strange disqualifications in the men's 4x100m final received Canada, who crossed the line first and second place finishers Cuban's on Saturday night at Pan American Games in Toronto.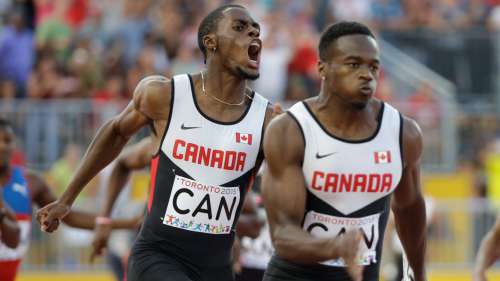 Cubans who took silver were disqualified for competing in a different order than they submitted before the star.
for two hours Cubans were listed as silver medal winners before they were removed from the official results lists by meet officials.
Team Canada was disqualified after taking gold medal. After protests from other teams it took a while for officials to decide either to disqualify them or not.
Finally after two and half hours of deep investigation, meet officials disqualified Canadian's for lane violation. Watch Men's 4x100m Final Here>>
For a similar violation, Canada was removed from an Olympic bronze at London 2012 Olympics.
Another team that was disqualified from this final was Antigua & Barbuda while Jamaicans did not finish the race.
Official Results Men 4x100m Pan American Games Toronto
| | | |
| --- | --- | --- |
| 1 | | 38.27 |
| 2 | | 38.68 |
| 3 | | 38.69 |
| 4 | | 38.79 |
| 5 | | 38.86 |
| - | | DNF |
| - | | DQ |
| - | | DQ |