Peru's Gladys Tejeda was the crowned champion in the women's marathon at 2015 Toronto Pan American Games on Saturday, July 18.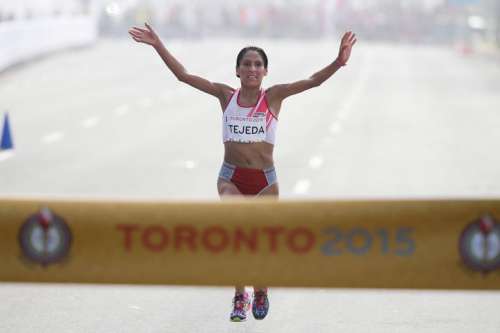 Tejeda covered the marathon course in a new Pan Am championships record of 2:33:03. Brazil's Adriana Aparecida Da Silva finished second with a time of 2:35:40, while American Lindsay Flanagan concluded the podium in 2:36.30.
Canadian marathoner Rachel Hannah just missed the podium by finishing in fourth place.
Toronto 2015 Pan American Games - Women's Marathon Results
1
637

| | |
| --- | --- |
| | TEJEDA Gladys |





2:33:03






PR




2
218

| | |
| --- | --- |
| | DA SILVA Adriana.. |





2:35:40
+2:36










3
757

| | |
| --- | --- |
| | FLANAGAN Lindsay |





2:36:30
+3:26










4
310

| | |
| --- | --- |
| | HANNAH Rachel |





2:41:06
+8:02










5
233

| | |
| --- | --- |
| | DOS SANTOS Marily |





2:41:31
+8:27










6
607

| | |
| --- | --- |
| | HERNANDEZ Margar.. |





2:41:57
+8:54










7
498

| | |
| --- | --- |
| | CHACHA Rosa |





2:42:47
+9:43










8
802

| | |
| --- | --- |
| | AMAYA Zuleima |





2:49:42
+16:38










9
336

| | |
| --- | --- |
| | WATKINS Catherine |





2:51:23
+18:19










10
601

| | |
| --- | --- |
| | DE LA ROSA Vianey |





2:51:42
+18:38










11
379

| | |
| --- | --- |
| | OLIVERA Erika |





2:52:27
+19:23












403

| | |
| --- | --- |
| | TOBON Leidy |





DNF














754

| | |
| --- | --- |
| | CUMMINGS Sarah |





DNF














447

| | |
| --- | --- |
| | BELMONTE Dailin |





DNF














635

| | |
| --- | --- |
| | MELCHOR Ines |





DNF














624

| | |
| --- | --- |
| | MARTINEZ Carmen .. |





DNF














381

| | |
| --- | --- |
| | ROMERO Natalia |





DNS