USA's Candace Hill Smashed World youth Championships Record to win gold in the girls 100m final on Thursday night in Cali, Colombia.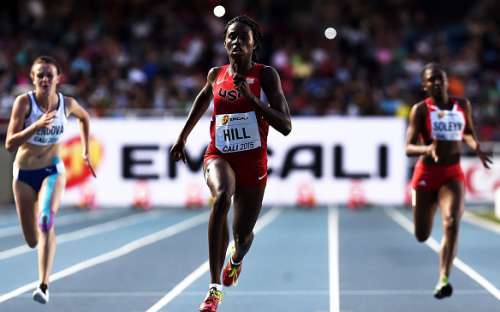 Hill won the world youth championships gold medal posting a new championships record of 11.08 seconds. Also running very fast, silver medal took Trinidad and Tobago Khalifa St. Fort, who set a new personal best mark of 11.19 seconds. Bronze medal took Jayla Kirkland of USA with a time of 11.41 seconds. Watch Video Here>>

"I'm a real-world champion," she said. "It's so amazing. The moment my season started, I was a bit out of shape. Me and my coach worked on it and I just got better, ran PR's, ran that 10.98, and that gave me confidence coming into this meet. I just had to focus and do my job." said Hill who set world youth best of 10.98 seconds in June.
Candace Hill will return to track on Saturday to run the 200m.
In the girls 100m hurdles final, Ecuador's Maribel Vanessa Caicedo powered to gold upsetting pre-race favorite American Alexis Duncan who hit hard third hurdle and faded to 7th place. Caicedo crossed the line first in a new championships record of 13.04 seconds. USA's Brittley Humphrey finished second in 13.22 setting a new personal best. Watch race video here>>