Olympic games silver and bronze medalist, Keston Bledman, and Kelly-Ann Baptiste, the Olympic games bronze medalist, were crowned champions at Trinidad & Tobago national trials on Saturday (27 June).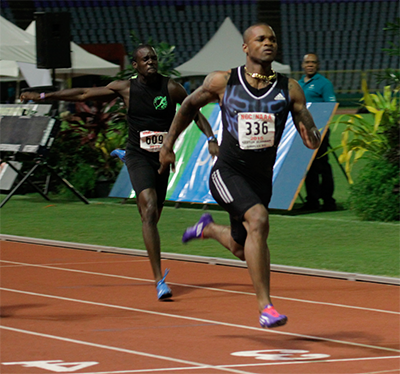 Bledman showed a top form by destroying men's 100m field and clocking 9.86 seconds (1.1m/s wind).
Kelly-Ann Baptiste also impressed the crowed by setting a new national record of 10.84. Baptiste had already posted a fast time 11.01 seconds earlier in semi finals.
Renny Quow showed a class in the men's 400m final by clocking 44.90 for the win and beating Jarrin Solomon, who crossed the line after 45.58 seconds to take second place.
Trinidad and Tobago national championships continues on Sunday, June 28.
Men 100m results
Finals
  1 Bledman, Keston     88 Simplex                   9.86 WC      1.1  2
  2 Duncan, Marcus      86 Rebirth                  10.15 WC      1.1  2
  3 Sorrillo, Rondell   86 LA Brea                  10.16 WC      1.1  2
  4 Callender, Emmanue  84 Memphis Pioneers         10.21 STD     1.1  2
  5 Thomas, Mikel       87 Rebirth                  10.24 STD     1.1  2
  6 Telesford, Dan-Eil  92 Neon Trackers            10.29 STD     1.1  2
  7 Cadogan, Levi       95 Barbados                 10.33        -2.0  1
  8 Adams, Antoine      88 ST Kitts & Nevis         10.37        -2.0  1
  9 Allsop, Shermund    91 Concorde                 10.55        -2.0  1
 10 Walker, Tristan     87 Unattached               10.56        -2.0  1
 11 Farinha, Jonathan   96 Abilene                  10.64        -2.0  1
 11 Ralph, Quin-Lee     91 Concorde                 10.64        -2.0  1
 13 Morain, Moriba      92 Simplex                  10.67        -2.0  1
 14 Noel, Lesean        90 Utt Fast Track           10.75        -2.0  1
 -- Brown, Darrel       84 Abilene                     DQ         1.1  2  Rule 162.6
Women 100m results
Finals
  1 Baptiste, Kelly-An  86 Zenith                   10.84!WC      1.4  2
  2 Ahye, Michelle-Lee  92 Unattached               11.17 WC      1.4  2
  3 Thomas, Reyare      87 Abilene                  11.22 WC      1.4  2
  4 Hackett, Semoy      88 Zenith                   11.23 WC      1.4  2
  5 Durant, Kamaria     91 Simplex                  11.40 STD     1.4  2
  6 Harrigan-Scott, Ta  82 IVB                      11.46        -0.4  1
  7 Wickham, Lisa       94 Concorde                 11.56         1.4  2
  8 Alzoa, Peli         94 Memphis Pioneers         11.61         1.4  2
  9 prieto, mauricia    95 PFNJ                     11.76         1.4  2
 10 Mason, Shun-Shauna  91 Concorde                 11.89        -0.4  1
 11 Hill, Taylor        96 IVB                      11.93        -0.4  1
 12 Murray, Onika       94 Simplex                  12.13        -0.4  1
 13 Hutchinson, Ayanna  78 Concorde                 12.22        -0.4  1
 14 Noel, Jendayi       99 Speed Factory            12.36        -0.4  1
 15 Walcott, Shikyla    98 Simplex                  12.53        -0.4  1