Former world javelin champion, Teri Pitkamaki, of Finland threw his farthest mark in two years to defeat Egypt's Ihab Abdelrahman in the men's javelin contest at 2015 Paavo Nurmi Games in Turku, Finland on Thursday, June 25.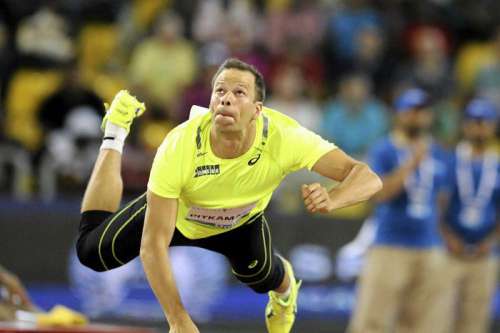 Abdelrahman took the lead from Pitkamaki in round 3 throwing his season's best of 85.50m. The 32-year-old Pikamaki's response came in the last 6th attempt in which he managed to land the 800g heavy javelin at 89.06m. Abdelrahman tried to respond with all he had left in the tank, but his javelin landed no farther than 84,32m. Watch Video Here>>

Although the weather conditions were far from ideal with 13C and shifting winds, it did not stop athletes to produce top class marks in other event in the fully filled Paavo Nurmi stadium.
In the men's 5000m world championships bronze medalist Isiah Koech of Kenya running alone most of the race set a new meeting record of 13.08,94.
In the men's hammer throw defending world champion Pavel Fajdek picked up his 9th victory in a row this year. Fajdek in the fourth round managed to throw a massive 80.71m beating one his biggest opponents Krisztián Pars of Hungary who threw 77,70m. The 26-year-old Polish hammer thrower is the only man this year throw more than 80m.
In the women's 1500m was a similar situation where Kenya's 21-year-old Nancy Chepkwemoi alone worked her way to a victory clocking a outstanding personal best mark of 4.06,90.
In the women's 100m South Africa's Carina Horn beat the field with a new personal best 11.16 seconds, while compatriot Henricho Bruintjies won the men's 100m posting a very decent time of 10.09 (W +2.3).
Kenya's Elijah Manangoi set a new meeting record in the men's 1500m run crossing the line in 3.36,81.
In the men's 110m hurdles Cuba's Yordan O'Farrill edged for the win compatriot former Olympic champion and world record holder Dayron Robles. O'Farrill posted a time 13.29 seconds, while Robles clocked new season's best time of 13.32 seconds.
Serita Solomon of Great Britain took the win in the women's 100m hurdles in 13.03 beating Belgium's Anne Zagré by only 0.01 seconds.
Moroccan Salima Alami took the win in the women's 3000m steeple setting new new season's best time of 9.28,49.
Hungary's Barbara Szabó took the victory in the high jump by clearing 1.88m. Estonian high jumper Eleriin Haas also cleared 1.88m, but had to settle in second on a count back.
World season leader Cuba's Denia Caballero was the winner in the discus throw competition with a mark of 65.17m.
Belarus Yulia Leantsiuk was the winner in the women's shot put with a magnificent performance of 18.86m.