Baku, Azerbaijan - Reigning world pole vault champion Raphael Holzdeppe with a magnificent personal best jump of 5.92m beat Brazil's Tiago Da Silva of Brazil on the first day of the street pole vaulting in the Azerbaijan's capital Baku.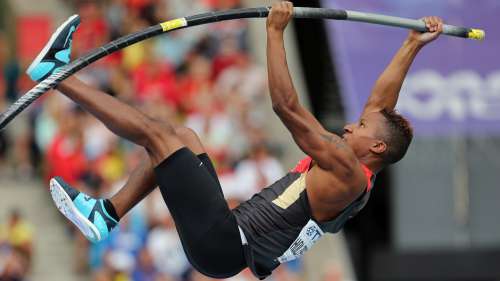 The 25-year-old German Holzdeppe cleared 5.92m beating his old personal best mark by one centimeter. Brazil's Da Silva performance was no less impressive by twice breaking his own South American record clearing 5.87m and then clearing 5.92m and loosing only on a count-back.
If Holzdeppe already has a name in the world pole vaulting then Tiago Da Silva with his performance put himself among the top contenders to win a medal at this year's Beijing world championships and next year's Rio Olympics.
Poland's Piotr Lisek and Czech Republic's Michael Balner both cleared 5.82m to take third and fourth place.
In the women's pole vault contest, Russian junior champion Olga Mullina took the win in a new personal best of 4.45m with second and third place finishers compatriot Tatyana Shvydkina and Czech Republic's Romana Malacova also clearing 4.45m.
The street athletics competition in Baku continues on Thursday, June 25 with a high jump competition. The top star in the event is Ukraine's Boghdan Bondarenko, who holds one of the best personal best marks in history of 2.42m.