• Burka and Edris Take Ethiopian 10k Trials

Posted by:
Watch Athletics
Thursday, 18 June 2015
Muktar Edris and Gelete Burka won Ethiopian 10,000m trials in the city of Hengelo in Netherlands on Wednesday June 17.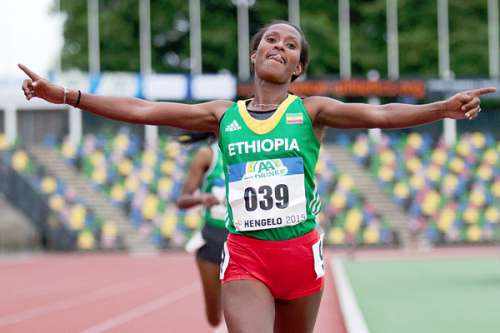 The 21-year-old Edris running his second 10,000m on the track in his career beat talent stacked field with a time of 27:17.18 and securing his spot on Ethiopian team for Beijing world championships.
Final two spots on the Ethiopian team took World championships bronze medalist Imane Merga (27:17.63) and Mosinet Geremew ( 27:18.86).
In the women's race former mid-distance star Gelete Burka took the win in a new world leading time of 30:49.68. Alemitu Heroye crossed the line in second in 30:50.83 while Belaynesh Oljira was third with a time of 30:53.69.
Results Men
1 Muktar Edris 27:17.18
2 Imane Merga 27:17.63
3 Mosinet Geremew 27:18.86
4 Adugna Tekele 27:19.34
5 Tebalu Zawude 27:20.54
6 Tamirat Tola 27:22.64
7 Leul Gebresilase 27:22.89
8 Azmeraw Mengistu 27:33.82
9 Yitayal Atnafu 27:50.70
10 Yigrem Demelash 28:18.03
Results Women
1 Gelete Burka 30:49.68
2 Alemitu Heroye 30:50.83
3 Belaynesh Oljira 30:53.69
4 Mamitu Daska 30:55.56
5 Wude Ayalew 30:58.03
6 Netsanet Gudeta 31:06.53
7 Genet Yalew 31:08.82
8 Ababel Yeshaneh 31:23.60
9 Sule Utura 31:57.85