• Powell Wins 100 in Montreuil

Posted by:
Watch Athletics
Tuesday, 09 June 2015
Former 100m world record holder Asafa Powell took his 3rd straight win this season on Tuesday afternoon at the international meeting in Montreuil, France.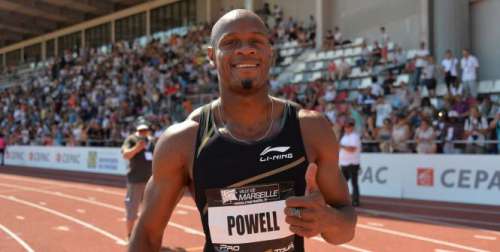 The 33-year-old Powell, who holds a seasons best time of 9.84 seconds, took a very comfortable win crossing the line after 10.02 seconds. Wilfried Koffi (CIV) was second with a time of 10.24, while Mosito Lehata (LES) was third in 10.27 seconds. Video>>
In the women's 100m hurdles Nina Morizova (RUS) clocking 12.85 seconds managed to steal the win in the last meters form France's Cindy Billaud 12.87sec. American star Lolo Jones in her second race this year posted season's best time of 12.93 seconds. Video>>
A surprise win in the men's 110m hurdle took Cuba's Yordan O'Farrill, who crossed the line in a new PB of 13.25 seconds narrowly beating Pascal Martinot-Lagarde of France 13.27. Video>>
European indoor champion Selina Buhel (SUI) held of Renelle Lamonte (FRA) to win women's 800m race in 2:00.47. Video>>
Men's 800m was won by Burundi's Antoine Gakeme with a time of 1:47.21 Video>>, while Frenchman Amdouni Morhad crossed the line first in 1500m in 3:37.40. Video>>
Moroccan Abdelaati Iguider with a massive surge in the last 50m secured the win in the 1000m in 2:19.48 . Iguider the world championships bronze medalist in 1500m defeated Ethiopian 800m superstar Mohammed Aman who finished after 2:20.11. Video>>
In the women's discus throw Cuba's Denia Cabarello threw 65.22m for the win.
World Junior pole vault record holder Alyona Lutkovskaya of Russia needed 4.42m to win pole vault event.