• Pichardo Jumps 18.08m in Havana
» Friday, 29 May 2015

Article source: Athletics
Cuba's Perdo Pablo Pichardo set another impressive mark over in triple jump at Memorial Barrientos in Cuba's Capital Havana on Thursday May 28.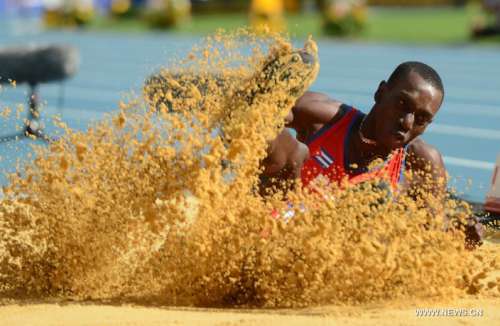 The 2013 Moscow world championships silver medalist, Pichardo, jumped a massive 18.08m in his second attempt to win the event. It was second time this year that Pichardo has jumped 18+ meters.
On May 15 in Doha Diamond league the 22-year-old Cuban triple jumper passed the magic 18m mark for the first time in his career. Pichardo's winning mark of 18.06m in Doha made him the third best triple jumper in history behind world record holder Great Britain's Jonathan Edwards(18.29m) and American Kenny Harrison (18.09).
Top 15 Triple Jumpers in History
| | | | | | | | |
| --- | --- | --- | --- | --- | --- | --- | --- |
| 1 | 18.29 | WR | 1.3 | Jonathan Edwards | GBR | Göteborg | 7 Aug 1995 |
| 2 | 18.09 | AR | -0.4 | Kenny Harrison | USA | Atlanta GA | 27 Jul 1996 |
| 3 | 18.06 | AR | 0.8 | Pedro Pablo Pichardo | CUB | Doha | 15 May 2015 |
| 4 | 18.04 | NR | 0.3 | Teddy Tamgho | FRA | Moskva | 18 Aug 2013 |
| 5 | 18.04 | | 0.8 | Christian Taylor | USA | Doha | 15 May 2015 |
| 6 | 17.97 | | 1.5 | Willie Banks | USA | Indianapolis IN | 16 Jun 1985 |
| 7 | 17.92 | NR NUR | 1.6 | Khristo Markov | BUL | Roma | 31 Aug 1987 |
| 8 | 17.92 | AR | 1.9 | James Beckford | JAM | Odessa TX | 20 May 1995 |
| 9 | 17.90 | NR | 2.0 | Vladimir Inozemtsev | UKR | Bratislava | 20 Jun 1990 |
| 10 | 17.90 | AR | 0.4 | Jadel Gregório | BRA | Belém | 20 May 2007 |
| 11 | 17.89A | | 0.0 | João Carlos de Oliveira | BRA | Ciudad de México | 15 Oct 1975 |
| 12 | 17.87 | | 1.7 | Mike Conley | USA | San José CA | 27 Jun 1987 |
| 13 | 17.86 | | 1.3 | Charlie Simpkins | USA | Kobe | 2 Sep 1985 |
| 14 | 17.85 | NR | 0.9 | Yoelbi Quesada | CUB | Athína | 8 Aug 1997 |
| 15 | 17.81 | NR | 1.0 | Marian Oprea | ROU | Lausanne | 5 Jul 2005 |