Defending world 110m hurdles champion, David Oliver, of USA clocked fastest time in the world this season at IAAF Beijing World Challenge on Wednesday, May 20.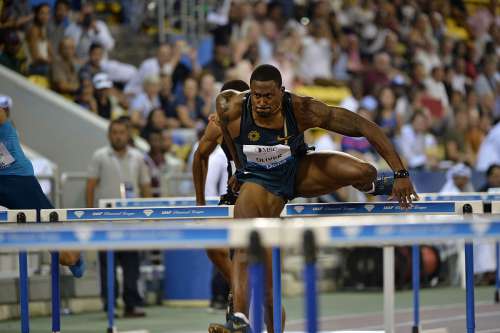 Oliver in a dominated the 110m hurdles today by finishing after 13.15 for the win. The 33-year-old Oliver for the third race in a row defeated Cuba's Orlando Ortega, who finished in second after 13.37 seconds and his country man Ronie Ash, who was third in 13.43 sec. Video>>
The second world lead of 54.37 seconds at Beijing's Olympic stadium was set by South Africa's Wenda Nell in the 400m hurdles. Nell beat American pair of Tiffany Williams 55.22sec and London Olympics silver medalist Lashinda Demus who finished after 55.87 seconds. Video>>
A massive world leading mark of 77.73m was set by Poland's world and Olympic games silver medalist Anita Wlodarczyk. Video>>
Also top mark this year in the world and a new PB was set in the women's shot put by Germany's Christina Shwanitz, who managed to throw 20.77m.
Marvin Bracy of USA clocked his first ever sub 10 seconds to win men's 100m in 9.95 seconds beating compatriot Mike Rodgers, who was second with a time of 9.99 seconds. Video>>
Multiple Olympic games and World championships gold medalist Veronica Campbell-Brown of Jamaica dominated women's 200m by taking the win in 22.68 seconds. USA's 17-year-old talent Kaylin Whitney took a surprise second with a time of 23.06 and Shillonie Calvert of Jamaica was third 23.12. Video>>
In the women's 100m Trinidad and Tobago star Michelle-Lee Ahye took the victory in 11.05.
2-time world junior champion Jonathan Muia Ndiku of Kenya was the fastest man in the men's 3000m steeple with a time of 8:11.64. Video>>
18-year-old Kenyan Alfred Kipketer , the world junior champion in Eugene from last year, took the honors in the 800m with a time of 1:45.45. Video>>
Mike Hartfield with a leap of 8.27m took the win the long jump contest defeating world season leader Jeff Henderson by 3 centimeters.
World season leader Ukraine's Anna Mishchenko took the win in the 1500m race with a fast 4:02.89.
Shujiao Wu took the win in front of a home crowd in the 100m hurdles 12.85 sec.