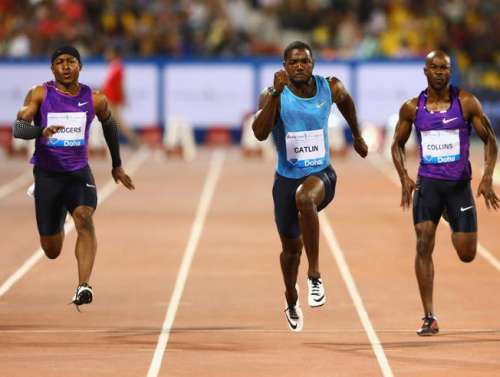 Twice for doping banned Gatlin won Diamond League's most popular race in a new world leading and personal best mark of 9.74 seconds.
"It was a magical night for me," Gatlin said. "Doha is a great place for me and with that performance I put out a statement."
Michael Rodgers (USA) crossed the line in second in 9.93 seconds with Trinidad and Tobago sprinter Keston Bledman was third in 10.01.
The 33-year-old Gatlin has left a clear message that he is ready to meet and battle world's fastest man Usain Bolt at world championships in Beijing.
Diamond League Doha Qatar Men 100m Results
| | | | | |
| --- | --- | --- | --- | --- |
| 1. | Justin GATLIN | USA | 82 | 9.74WL |
| 2. | Michael RODGERS | USA | 85 | 9.96 |
| 3. | Keston BLEDMAN | TTO | 8 | 10.01 |
| 4. | Kim COLLINS | SKN | 76 | 10.03 |
| 5. | Femi OGUNODE | QAT | 91 | 10.04 |
| 6. | Nesta CARTER | JAM | 85 | 10.07 |
| 7. | DionDre BATSON | USA | 92 | 10.10 |
| 8. | James DASAOLU | GBR | 87 | 10.14 |