Three world leading marks were set on Sunday, May 10 at IAAF World Challenge meet Seiko Golden Grand Prix in Kawasaki.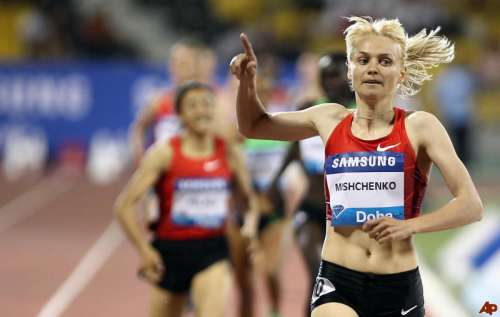 Ukraine's and Europe's on of the top middle distance runner, Anna Mishchenko, impressed with a win over 1500m in Kawasaki on Sunday. Mishchenko in her first competition after a long set back from injury won the event in a world leading 4:02.47. Mishchenko in the home stretch out sprinted Ethiopia's Gudaf Tsegay. Tsegay posted 4:03.09 for second, while Aisha Praught of the United States was third with a new PB of 4:05.52.
Another world leading mark was set by Ukraine's Bogdan Bondarenko who in his season opener managed to jump 2.37m.
In the men's 3000m Steeple Kenyan's went 1-2-3 with Bernard Mbugua Nganga wining the race with the fastest time in the world this year.
In another meeting in Klatovy Czech Republic on Wednesday a new World lead of 85.50m in the javelin was set by Czech thrower Petr Frydrych.
Germany's Discus thrower, Christoph Harting, (not Robert Harting) at the 20th Wiesbadener Werfercup started the season with a massive throw of 67.53m PB and WL.