Kenya's Stephen Sambu was the overall winner at Sunday's Great Run Manchester 10k, while 40 year old running legend, Bernard Lagat, shattered world +40 masters record.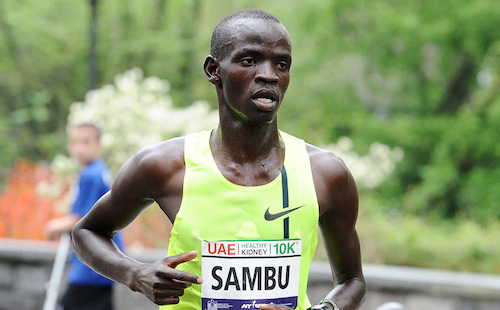 Sambu took the win with a fast time of 27:30 ahead of South Africa's Stephen Mokoka. USA's multiple world championships gold medalist on the track in his 10k debut smashed Haile Gebrselassie's masters world record by cloking 27:48 seconds for third. Lagat also tide Mark Nenow's American 10k road record. Previous record stood at 28:00 mins.
The women's race was won by Kenya's Betsy Saina who finished after 31:49 ahead of Great Britain's Gemma Steel 31:55 and compatriot Edna Kiplagat 31:57.
You Can Watch Full Reace Replay Here>>

Top Results Men
| Name | Pos | Finish Time |
| --- | --- | --- |
| STEPHEN SAMBU | 1 | 00:27:30 |
| STEPHEN MOKOKA | 2 | 00:27:38 |
| BERNARD LAGAT | 3 | 00:27:48 |
| WILSON KIPSANG | 4 | 00:27:53 |
| LEONARD KOMON | 5 | 00:28:19 |
| TESFAALEM MEHARI | 6 | 00:28:23 |
| ANDREW BUTCHART | 7 | 00:29:09 |
| ROSS MILLINGTON | 8 | 00:29:11 |
| JONATHAN TAYLOR | 9 | 00:29:19 |
| MARK CHRISTIE | 10 | 00:29:20 |
Top Results Women
| Name | Pos | Finish Time |
| --- | --- | --- |
| BETSY SAINA | 1 | 00:31:49 |
| GEMMA STEEL | 2 | 00:31:55 |
| EDNA KIPLAGAT | 3 | 00:31:57 |
| CAROLINE KILEL | 4 | 00:32:18 |
| DIANE NUKURI | 5 | 00:32:27 |
| JELENA PROKOPCUKA | 6 | 00:32:33 |
| FIONNUALA BRITTON | 7 | 00:32:56 |
| TIKI GELANA | 8 | 00:33:12 |
| JESS COULSON | 9 | 00:33:15 |
| JO PAVEY | 10 | 00:33:21 |