On Saturday night at the World Relays 4x100m final, Usain Bolt split history's fastest anchor leg. Usain Bolt posted unofficially 8.65 seconds, but still failed to catch USA's Ryan Bailey, who had a magnificent distance ahead of Bolt.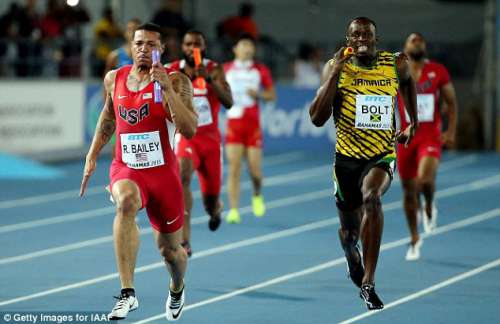 Bolts countryman former 100m world record holder, Asafa Powell, had the previous fastest anchor split of 8.68 sec from 2008 Beijing Olympics.
Bolt's previous best mark while anchoring was 8.70 seconds from 2012 London Olympics 4x100m world record run.
Unofficial Top List
| | | | |
| --- | --- | --- | --- |
| 1. Usain Bolt | JAM | 8.65 | Nassau, World Relays 2015 |
| 2. Asafa Powell | JAM | 8.68 | Beijing, Olympic Games 2008 |
| 3. Richard Thompson | TRI | 8.8 | Nassau, World Relays 2014 |
| 4. Ryan Bailey | USA | 8.83 | Nassau, World Relays 2015 |
| 5. Carl Lewis | USA | 8.85 | Barcelona, Olympic Games 1992 |
| 6. Leroy Burrell | USA | 8,92 | Stutgart, World Ch 1993 |
| 7. Yancarlos Martinez | DOM | 8.92 | Nassau, World Relays 2015 |
| 8. Donovan Bailey | CAN | 8.93 | Atlanta, Olympic Games 1996 |
| 9. Linford Christie | GBR | 8.95 | Seoul, Olympic Games 1988 |
| 10. Dennis Mitchel | USA | 8.97 | Atlanta, Olympic Games 1996 |