• USA Wins Golden World Relays Baton

Posted by:
Watch Athletics
Monday, 04 May 2015
Having won 7 out of 10 events team USA was the overall winner at IAAF/BTC World Relays Championships 2015.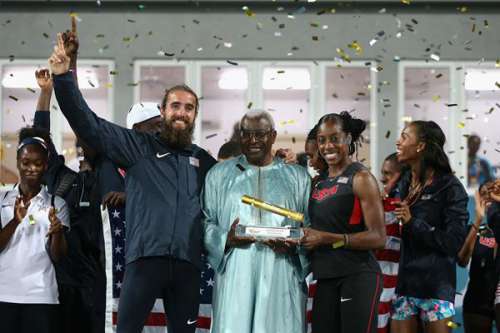 The only events USA did not win was men's and women's 4x200m and women's 4x100m. Men's 4x200m and women's 4x100m was won by Jamaica, meanwhile women's 4x200m was won by Nigeria.
Team USA scored 63 points to claim World Relays Golden Baton. Jamaica with 46 points repeated its last year's second place finish.
Poland made a major improvement by finishing in third place overall. At last year's World Relays Polish team finished in 9th place.
Also team Australia improved their position from last year by finishing in fourth place.
| Rank | Team | Score |
| --- | --- | --- |
| 1 | United States | 63.0 |
| 2 | Jamaica | 46.0 |
| 3 | Poland | 34.0 |
| 4 | Australia | 25.0 |
| 5 | Germany | 21.0 |
| 6 | France | 19.0 |
| 7 | Kenya | 15.0 |
| 8 | Great Britain & N.I. | 15.0 |
| 9 | Brazil | 13.0 |
| 10 | Bahamas | 11.0 |
| 11 | Canada | 11.0 |
| 12 | Nigeria | 10.0 |
| 13 | Trinidad and Tobago | 8.0 |
| 14 | Mexico | 7.0 |
| 15 | Belgium | 6.0 |
| 15 | Japan | 6.0 |
| 17 | Saint Kitts and Nevis | 6.0 |
| 18 | Cuba | 5.0 |
| 18 | PR of China | 5.0 |
| 20 | Ireland | 4.0 |
| 21 | Papua New Guinea | 3.0 |
| 22 | Switzerland | 3.0 |
| 23 | Botswana | 1.0 |