A total prize of USD $1.4 million is on offer to top finishing teams for this weekend's world relay's championships in Bahamas.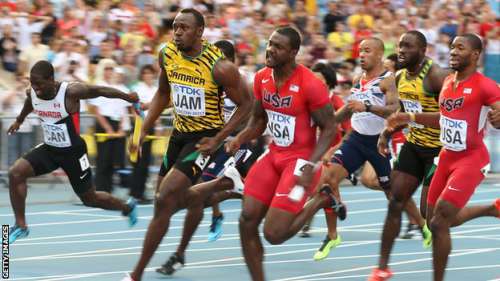 There will be also a bonus of $50,000 for braking the world record.
The IAAF also replaced the 4x1500m relay with distance medley relay (DMR). The unofficial men's DMR world record stands at 10:42.57 (indoors) and was set this year by the USA on February 7 in Boston, while women's record of 9:15.56 was set back in 2006 in Philadelphia.
1st – 50,000
2nd – 30,000
3rd – 20,000
4th – 12,000
5th – 10,000
6th – 8000
7th – 6000
8th – 4000
World Relays championships event and world records
Men
4x100m: Jamaica 36.84, 11 August 2012, London
4x200m: Jamaica 1:18.63, 24 May 2014, Nassau
4x400m: United States 2:54.29, 22 August 1993, Stuttgart
4x800m: Kenya 7:02.43, 25 August 2006, Brussels
Distance medley*: Kenya 9:15.56, 29 April 2006, Philadelphia
Women
4x100m: United States 40.82, 10 August 2012, London
4x200m: United States 1:27.46, 29 April 2000, Philadelphia
4x400m: USSR 3:15.17, 1 October 1988, Seoul
4x800m: USSR 7:50.17, 5 August 1984, Moscow
Distance medley*: United States 10:42.57 (indoors), 7 February 2015, Boston