After a tough race, Kenyan Eliud Kipchoge won the 2015 men's London Marathon in a time of 2:04:42. Kipchoge defeated his countryman Wilson Kipsang (the two time London winner) into second with a time of 2:04:47 - the fastest second place in London's history.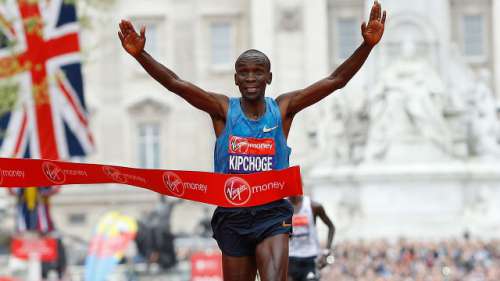 In third place was another Kenyan, the world marathon recold holder, Dennis Kimetto, with a time of 2:05:50.Ethiopia's
Tigist Tufa of Ethiopia won the women's London Marathon.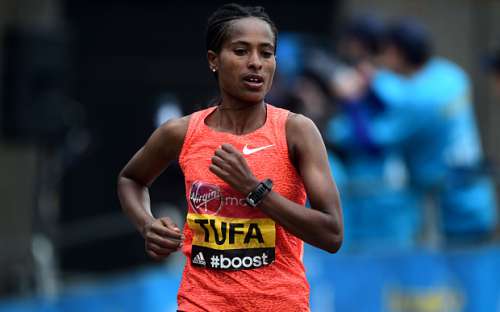 Tufa, the Shanghai Marathon in 2014, clocked two hours 23 minutes 22 seconds, to beat two-time London winner Mary Keitany of Kenya.
Tufa and compatrot Tirfi Tsegaye and Kenya's. Keitany broke away from the leading group 5km to the finish.
Tufa then made a move alone in the last kilometer to take win by 18 seconds from Keitany, the 2011 and 2012 winner. Tsegaye was third third in 2:23:41.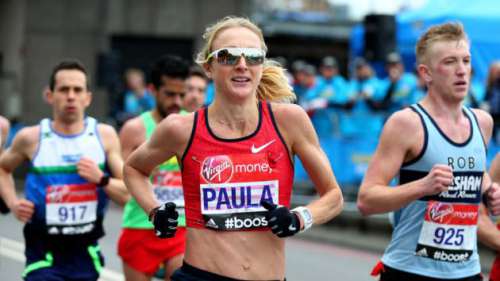 The 2015 London Marathon was also British distance-running heroine Paula Radcliffe's good buy to professional running.
Radcliffe, who set the world marathon record of 2:15:25 on this course in 2003 started the competition among main field.
Radcliffe crossed the line on Sunday in a time of 2:36:55.
"Down the last mile I thought, 'I don't care about the time'. I just wanted to thank as many people as I could," Radcliffe told the BBC at the finish. "
"There was a big sign at Embankment saying 'we will miss you', but it won't be as much as I will miss you." the 41-year-old runner added.
Top Results Men
| | | | | |
| --- | --- | --- | --- | --- |
| Place overall | Name | Category | HALF | FINISH |
| 1 | » Kipchoge, Eliud (KEN) | 18-39 | 01:02:20 | 02:04:42 |
| 2 | » Kipsang, Wilson (KEN) | 18-39 | 01:02:20 | 02:04:47 |
| 3 | » Kimetto, Dennis (KEN) | 18-39 | 01:02:20 | 02:05:50 |
| 4 | » Biwott, Stanley (KEN) | 18-39 | 01:02:20 | 02:06:41 |
| 5 | » Regassa, Tilahun (ETH) | 18-39 | 01:02:20 | 02:07:16 |
| 6 | » Kitwara, Samuel (KEN) | 18-39 | 01:02:20 | 02:07:43 |
| 7 | » Guerra, Javier (ESP) | 18-39 | 01:04:48 | 02:09:33 |
| 8 | » Kibrom, Ghebre (ERI) | 18-39 | 01:03:15 | 02:09:36 |
| 9 | » Reunkov, Aleksey (RUS) | 18-39 | 01:04:47 | 02:10:10 |
| 10 | » Lebid, Serhiy (UKR) | 18-39 | 01:04:48 | 02:10:21 |
Top Results Women
| | | | | |
| --- | --- | --- | --- | --- |
| Place | Name | Category | HALF | FINISH |
| 1 | » Tufa, Tigist (ETH) | 18-39 | 01:11:43 | 02:23:22 |
| 2 | » Keitany, Mary (KEN) | 18-39 | 01:11:43 | 02:23:40 |
| 3 | » Tsegaye, Tirfi (ETH) | 18-39 | 01:11:43 | 02:23:41 |
| 4 | » Mergia, Aselefech (ETH) | 18-39 | 01:11:42 | 02:23:53 |
| 5 | » Kiplagat, Florence (KEN) | 18-39 | 01:11:43 | 02:24:15 |
| 6 | » Sumgong, Jemima (KEN) | 18-39 | 01:11:43 | 02:24:23 |
| 7 | » Jeptoo, Priscah (KEN) | 18-39 | 01:11:43 | 02:25:01 |
| 8 | » Felix, Ana Dulce (POR) | 18-39 | 01:12:12 | 02:25:15 |
| 9 | » Mazuronak, Volha (BLR) | 18-39 | 01:14:03 | 02:25:36 |
| 10 | » El Moukim, Rkia (MAR) | 18-39 | 01:11:44 | 02:26:33 |