Defending London marathon champion Wilson Kipsang admits that his biggest threat at Sunday's London marathon is his training partner and world marathon record holder, Dennis Kimmeto.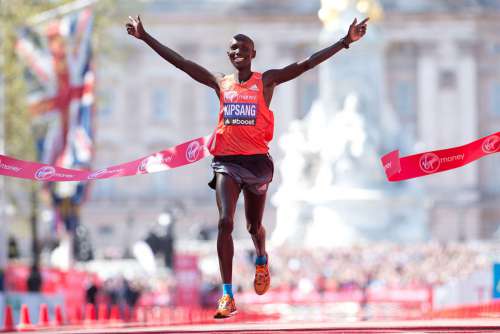 Both runners have faced twice in the half marathon, but London will be the first time that both runners will clash in the marathon race.
"I'm expecting a big challenge from Dennis. "I broke the world record in Berlin in 2013, then he broke the record last year. This is the first time we've met in a marathon but we've met in half marathons before." Said Kipsang in a pre-race conference on Friday.
"I've beaten him once [in Olomouc, the Czech Republic in 2014] and he's beaten me once [in Ras Al Khaimah in 2012]. I have more experience in marathons, but he has done very well in the few he's done."
This year the London marathon organizers have attracted a super strong field of nine men with personal best marks below 2:06. Among them are 2011 London marathon winner Emmanuel Mutai, 2014 Chicago Marathon champion Eliud Kipchoge, last year's London runner-up Stanley Biwott and two-time New York Marathon champion Geoffrey Mutai.
"My main aim is not the world record but to retain the title and run a good time," said Kipsang. "With this kind of field, it will be a fast race and more tactical. We will start to keep the pace up and then we'll see what happens. The main thing is it's a very fast race so it's about how you've prepared yourself and how you approach it."
Last year Wilson Kipsang won his second London marathon title with a new course record of 2:04:29. His first win came in 2012 and if he wins on Sunday he will be the first man in history to win London marathon three times.
Elite Men - London Marathon 2015
Wilson Kipsang (Kenya) 2:03:23
Dennis Kimetto (Kenya) 2:02:57
Emmanuel Mutai (Kenya) 2:03:13
Eliud Kipchoge (Kenya) 2:04:05
Ayele Abshero (Ethiopia) 2:04:23
Sammy Kitwara (Kenya) 2:04:28
Tsegaye Mekonnen (Ethiopia) 2:04:32
Stanley Biwott (Kenya) 2:04:55
Tilahun Regassa (Ethiopia) 2:05:27
Samuel Tsegay (Eritrea) 2:07:28
Serhiy Lebid (Ukraine) 2:08:32
Aleksey Reunkov (Russia) 2:09:54
Ghebrezgiabhier Kibrom (Eritrea) 2:10:00
Marcin Chabowski (Poland) 2:10:07
Koen Raymaekers (Netherlands) 2:10:35
Scott Overall (Great Britain & NI) 2:10:55
Michael Shelley (Australia) 2:11:15
Javier Guerra (Spain) 2:12:21
Steve Way (Great Britain & NI) 2:15:16
Christian Kreienbühl (Germany) 2:15:35
Pedro Ribeiro (Portugal) Debut