The 41-year old Kenyan marathoner Kenneth Mungara smashed the world masters (over-40) record at the 2015 SuisseGas Milano Marathon.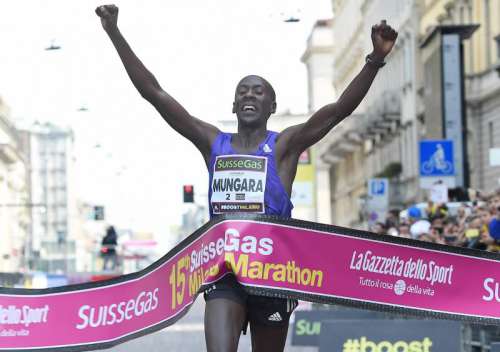 Mungara, who started running only in his early 30's, crossed the finish line in 2:08:44 to take the victory at the IAAF Bronze Label Road Race - the 2015 SuisseGas Milano Marathon , on Sunday April 12. The previous masters world record belonged to Mexico's Andres Espinosa who ran 2:08:46 in 2013 in Berlin.
"The course and the weather were good. You can run fast times. It was a tough race until the end," said Mungara.
A very promising marathon debut made Cyprian Kotut, who came in second with a mark of 2:08:55. Kotut is the youngest brother of past years London and New York Marathon winner Martin Le. Anorther Kenyan Philemon Baaruconcluded concluded the men's the podium with his third place finish in 2:09:08.
Kenyan's Lucy Karimi was the top fisniher in the women's race in 2:27:35. Ethiopia's Ayele Lemma came in second in 2:29:49, while Italian veteran Fatna Maraoui set an excellent PB of 2:33:16 to finish in third.