World'd one of the top shot putters Joe Kovacs opened his 2015 season at the at the 13th Johnson/JJK Invitational in Los Angeles, CA on Saturday.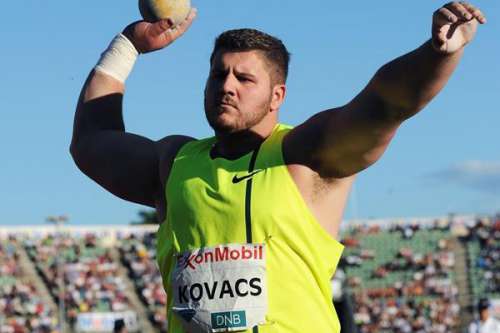 The 25-year-old Kovacs manged to throw 22.35m to set a new world lead and and new personal best.
The women's shot put was won by Tia Brooks with a toss of 18.49m.
Brazilian throwers dominated women's Javelin and discus. Jucilene de Lima won the javelin with 61.23m, while Fernanda Borges took the win in discus with 62.80m.
UCLA Rafer/Jackie Joiner Kersie Collegiate Invitational Results here>>
In another meeting on US soil in Arizona at the 36th Sun Angel Classic in Tempe, world record-holder Aries Merritt won the men's 110m hurdles in 13.29. Olympic 400m champion Kirani James opened his 2015 season with a fast 44.31 - new world lead. Bralon Taplin was second in a personal best and new NCAA lead of 44.89.
Another notable results at Sun Angel Classic came from Muna Lee who won 100m in 11.21 (0.4m/s). In the 200m Kamaria Brown posted 23.01 (0.0m/s) and South Africa's Anaso Jobodwana in the men's 200m in 20.38 (0.6m/s). Shelby Houlihan took the win in the women's 800m in 2:01.92. Bryan McBride won won the high jump contest with a mark of 2.26m (7-5.00).
Sun Angels Classic Results Here>>
At Texas invitational in Austin Kendra Chambers won the women's 800 in 2:01.93. See Results Here>>
In the men's 1500m at Stanford vs California dual meet, winner Thomas Joyce (CAL) set NCAA leading mark of 3;39;43 ahead of Stanford's Sean McGorthy 3;40.62. See Full Results Here>>