Kenya's Mark Korir produced his first major marathon victory at this Sunday's Paris Marathon.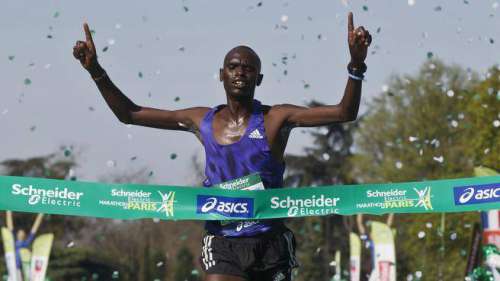 The 30-year-old Korir, who was a runner up at last month's Paris Half-Marathon clocked very fast 2;05:49 to win world's one the most prestigious marathon races.
Korir finished ahead of compatriot Luka Kanda, who finished after 2:07.33 and Ethiopia's Seboka Tola 2:07.33.
"Although today was a great, injury free race, I think I can go even faster than my time today. I believe I can go as fast as 2:04. I used to run track in high school but I wasn't very fast," said Korir.
"When I saw the others accelerate between 25km and 30km, I just kept the same rhythm without looking to follow them. The first half of the race was run at a slowish pace, so that meant I could accelerate whenever I wanted to." he added.
Last year legendary Ethiopian Kenenisa Bekele set a Paris course record of 2:05:04 in his marathon debut.
Meseret Mengistu of Ethiopia took a surprise win in the women's race. Mengistu better her previous personal best by almost 6 minutes to win the race in 2:23:26. Second and third place finishers Amane Gobena (ETH) and Kenya's Visiline Jepkesho posted 2:23:30 and 2:24:44 respectively.