Previous champions Vincent Kipruto and Flomena Cheyech are set to return to race at Paris Marathon on Sunday, April 13.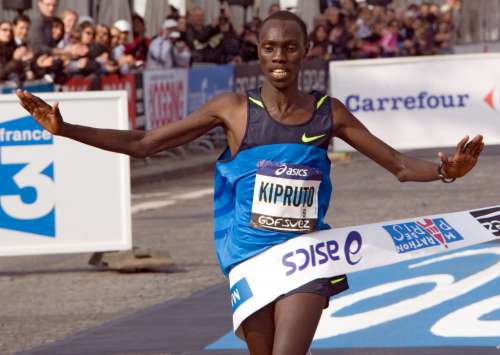 The 2009 Paris marathon winner Vincent Kipruto (Ken) is the fastest man in the field with a PB of 2 h 05'13. Kipruto has ran the 42.195km event under 2:06 mark total of 3 times in his career. He also claimed bronze medal at 2011 world Championships in Daegu. Kipruto will face a strong challenge from Ethiopia´s Deresse Chimsa the 2012 Prague Marathon champion. Chimsa set his PB of 2:05.42 in Dubai in 2012. Other very strong Ethiopian runners in Paris marathon and possible winners are Seboka Tola, Raji Assefa, Chala Dechasa and Limenih Getachew. All these runners hold the marathon personal bests 2:07 and faster. Kenya´s last year´s Toronto Marathon winner Laban Korir is also a man that could produce a surprise on Sunday.
Kenya´s Flomena Cheyech the 2014 Paris and Commonwealth games marathon winner will lead the women´s field. Last year in Paris Cheyech set her PB of 2:22:41 to claim her one of the biggest victories in her career.
Mulu Seboka of Ethiopia, who set her PB of 2:21:56 at this year´s Dubai Marathon more likely will be a runner to beat. Last year The 31-year-old Seboka took two big marathon wins in Daegu and Dubai and on Suday she will be looking to add another trophy in Paris. The Paris marathon course record holder Boru Tadese (ETH) 2:21:04 is another athlete that will be battling for the title. Tadese´s teammates Atsede Bayisa, Amane Gobena and Bruktayit Eshetu with personal best marks below 2:24 will be also on Start line on Sunday.
The IAAF gold lable road race Paris Marathon will take place on Sunday, April 12.