The 35th edition of Rotterdam Marathon, the IAAF gold lable road race, will take place on Sunday, April 12. This year the organizers have attracted the strogest field ever with 11 men with personal best marks below 2:10. Among them there are four man, who has run the 42.192km race below 2:05 mark.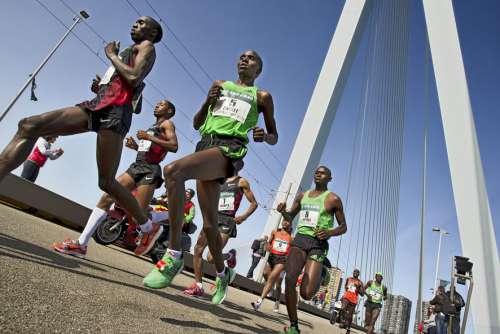 The fastest man on the paper, James Kwambai of Kenya will return to Rotterdam where he posted his PB mark of 2:04.27 back in 2009. Kwambai will be accompanied by his Kenyan teammates Bernard Koech (PB 2.04.53) and Jonathan Maiyo (PB 2.04.56) . The second fastest man with sub 2:05 (2.04.52) PB is Ethiopia's Feyisa Lilesa. Lelissa in January finished in fourth place at Dubai marathon with a mark of 2:06:35. Lilesas countryman Abera Kuma set his personal best of 2.05.56 at last years Berlin marathon where Kenya's Dennis Kimmetto set current world marathon record of 2:02:57.
The women's marathon field will be led by 42-year-old Netherland's runner Miranda Boonstra, who set a her PB of 2:27.32 in Rotterdam in 2012.
Men's Elite Runners

| | | |
| --- | --- | --- |
| James Kwambai (Ken, 32) | 2.04.27 | 2009, Rotterdam |
| Feyisa Lilesa (Eth, 25) | 2.04.52 | 2012, Chicago |
| Bernard Koech (Ken, 27) | 2.04.53 | 2013, Dubai |
| Jonathan Maiyo (Ken, 27) | 2.04.56 | 2012, Dubai |
| Abera Kuma (Eth, 24) | 2.05.56 | 2014, Berlijn |
| Mark Kiptoo (Ken, 38) | 2.06.16 | 2013, Frankfurt |
| Gilbert Yegon (Ken, 34) | 2.06.18 | 2009, Amsterdam |
| Mergersa Bacha (Eth, 30) | 2.06.56 | 2013, Parijs |
| Tabalu Zawude (Eth, 27) | 2.07.10 | 2014, Frankfurt |
| Asmare Abate (Eth, 31) | 2.09.56 | 2013, Düsseldorf |
| Michel Butter (Ned, 29) | 2.09.58 | 2012, Amsterdam |
| Gezahegna Abera (Eth, 30) | 2.10.17 | 2013, Barcelona |
| Reid Coolsaet (Can, 35) | 2.10.55 | 2011, Toronto |
| Abdelhadi El Hachimi (Bel, 40) | 2.11.30 | 2011, Amsterdam |
| Abdi Nageeye (Ned, 25) | 2.11.33 | 2014, Enschede |
| Andrea Lalli (Ita, 27) | 2.12.48 | 2014, Turijn |
| Raul Pacheco (Per, 35) | 2.13.18 | 2014, Otsu |
| Willem van Scheurbeeck (Bel, 30) | 2.13.55 | 2014, Rotterdam |
| Raul Machacuay (Per, 32) | 2.15.51 | 2014, Daegu |
Women Elite Athletes
| | | |
| --- | --- | --- |
| Miranda Boonstra (Ned, 42) | 2.27.32 | 2012, Rotterdam |
| Krista Duchene (Can, 38) | 2.28.32 | 2013, Toronto |
| Asami Kato (Jap, 24) | 2.28.51 | 2014, Brisbane |
| Gladys Tejeda (Per, 29) | 2.31.48 | 2013, Santiago de Chili |
| Marta Tigabea (Eth, 24) | 2.31.54 | 2014, Porto |
| Bornes Kitur (Ken, 27) | 2.33.50 | 2015, Hannover |
| Melanie Panayiotou (Aus, 30) | 2.35.01 | 2014, Glasgow |
| Clara Canchanya (Per, 32) | 2.37.07 | 2013, Daegu |
| Carmen Martinez (Par, 32) | 2.37.07 | 2013, Asuncion |
| Leila Luik (Est, 29) | 2.37.11 | 2013, Sjanghai |
| Liina Luik (Est,29) | 2.40.45 | 2013, Sjanghai |
| Hortensia Arzapalo (Per, 32) | 2.40.49 | 2011, Santiago de Chili |
| Lily Luik (Est, 29) | 2.41.58 | 2014, Turijn |
| Hanna Vandenbussche (Bel, 27) | 2.45.02 | 2014, Annecy |