The 2013 World indoor champion Chanelle Price (USA) started her 2015 outdoor campaign with a massive win over the two-lap race on Friday night at Florida Relays.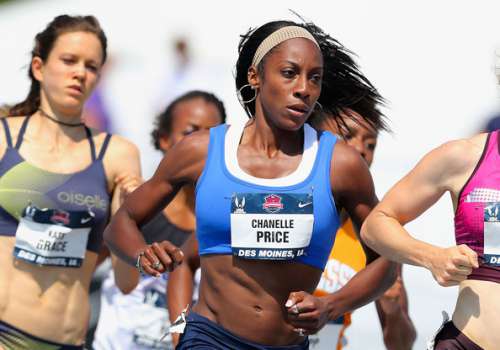 Price won the race setting the fastest 800m time (2:00:62) in the world. The American 800m star defeated Jamaica's NCAA indoor and outdoor 800m champion Natoya Goule, who finished one second behind the winner.
Top 800 Results
Finals
  1 CHANELLE PRICE               Nike                   2:00.62T
  2 NATOYA GOULE              SR Clemson                2:01.63R
  3 CLAUDIA FRANCIS           JR Florida                2:03.72
  4 CORY MCGEE                   New Balance            2:04.13  
University of Kentucky Kendra Harrison started won the 400m hurdles with a world-leading time. Harrison the 2014 NCAA runner up clocked a very fast 54.94 seconds to win the race with seasons fastest time in the world this year. Harrison holds personal best in 400m hurdles of 54.76 seconds from last year's Southeastern Conference Championship final.
Top 400m Hurdles Results
  1 KENDRA HARRISON           SR Kentucky                 54.94   1
  2 JAIDE STEPTER             JR USC                      55.83   2
  3 AMALIE IUEL               SO USC                      55.92   2
  4 NOELLE MONTCALM              U Windsor                56.53   1
Another spectacular race was the men's 110m hurdles which featured Olympic and World championships medalists David Oliver and Jason Richardson. But it was Aleec Harris, who took a victory in the event beating 2011 world champion Richardson and leaving Oliver in third. Harris posted world leading 13.23 seconds, while Richardson and Oliver clocked 13.24 and 13.25 respectively.
Top 110 Hurdles Results
  1 ALEEC HARRIS                 Adidas                   13.23   0.6
  2 JASON RICHARDSON             Adidas                   13.24   0.6
  3 DAVID OLIVER                 Nike                     13.25   0.6
  4 DWIGHT THOMAS                Adidas                   13.42   0.6
  5 MIKEL THOMAS                 World A C                13.47   0.6
  6 OMO OSAGHAE                  Unattached               13.56   0.6 
Another world leading mark was set in the women's 200m where USA's Tori Bowie clocked 22.61 running into -2.5m/s head wind.
University of Florida men's 4x400m team clocked an impressive 3:01:78 to win the final event in the competition.