Trinidad and Tobago sprinter Michelle-Lee Ahye set a new world leading time in the 100m during the opening day of the 2015 Florida Relays on Friday afternoon.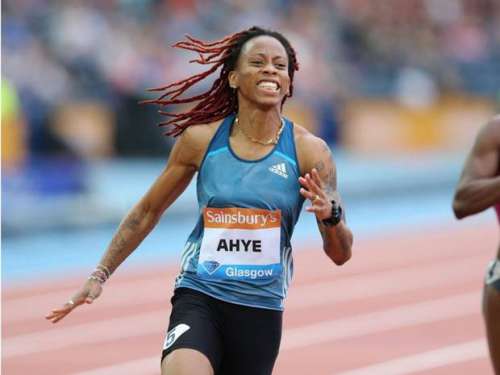 The 2013 world championships finalist Ahye ran 10.97 seconds into -2.5m/s strong headwind to win women's 100m. Ahye set a new world leading mark this year and broke Octavious Freeman Florida Relays meet record of 11.02 from last year.
In the same heat, Jamaicas Remona Burchell, who runs for University of Alabama finished in second setting world's second fastest time this year 11.04. American Tiffany Townsend took third with a time of 11.11 seconds.
Top Results Women 100m at Florida Relays
Finals
  1 MICHELLE-LEE AHYE         SR World Express AC         10.97R -2.5  1
  2 REMONA BURCHELL           SR Alabama                  11.04T -2.5  1
  3 TIFFANY TOWNSEND          SR PURE Athletics           11.11  -2.5  1
  4 ALEXIS FAULKNOR           JR USC                      11.32  -0.3  2
  5 TYNIA GAITHER             JR USC                      11.36  -0.3  2
  6 SABRIA HADLEY             FR Clemson                  11.37  -1.2  4
  7 ROSANGELA SANTOS             Brazilian O C            11.40  -0.3  2
  8 DEANNA HILL               FR USC                      11.44  -0.7  3
  9 KY WESTBROOK              FR USC                      11.49  -0.7  3
 10 FANY CHALAS                  FEDERACIÓN              11.51  -2.5  1
 11 GABRIELLA CANTRELL        FR USC                      11.53  -1.2  4
 12 ADANACA BROWN                BAHAMAS                  11.58  -2.5  1  11.577
 13 MERCEDES JACKSON          SR UMBC                     11.58  -0.3  2  11.578
 14 CARROL HARDY              SO Western Kentucky         11.60  -0.7  3  11.591
 15 ORNELLA LIVINGSTON        JR St. Augustine's          11.60  -1.2  4  11.600
 16 DESTINEE BROWN            SO USC                      11.61  -1.3  6
 17 TAYLA CARTER              JR Western Carolina         11.62  -0.7  3  11.613
 18 RAVIN GILBERT             JR Georgia State            11.62  -1.3  5  11.614
 19 MYASIA JACOBS             JR Clemson                  11.64  +0.0  7
 20 MARECIA PEMBERTON            Runners Elite            11.65  -0.7  3  11.642
 21 JAVIANNE OLIVER           SO Kentucky                 11.65  -1.3  5  11.645
 22 ALEXIS FEREBEE            JR Alabama State            11.66  -1.2  4
 23 DOMINIQUE BOOKER          SR Kentucky                 11.67  -0.3  2  11.665
 24 FARAH JACQUES             JR Ottawa                   11.67  -0.3  2  11.667
 25 SHENEL CROOKE             SO Morgan State             11.67  -0.7  3  11.668
 26 CAM'REE JACKSON           JR FIU                      11.69  -1.2  4  11.689
 27 QUANESHA BURKS            SO Alabama                  11.69  -0.3  2  11.690
 27 VICTORIA WADE             SR Louisiana Tech           11.69  -1.3  5  11.690
 29 JASMINE DAWSON            SO East Carolina            11.70  -1.2  4  11.693
 30 BRITTANY BROWN            SO Iowa                     11.70  -0.7  3  11.694
More Florida Relays Results Here>>