World indoor 3000m champion, Genzebe Dibaba, of Ethiopia took an impressive win at this Sunday's 'Carlsbad 5000' 5km road race.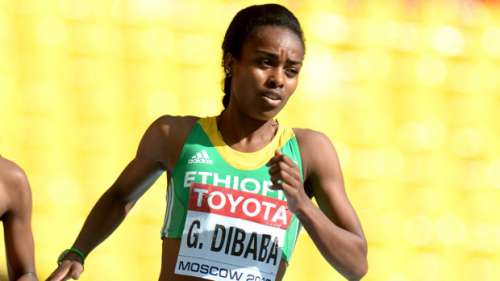 The world indoor record holder in 1500m, 3000m, 2-miles and 5000m, won the women's race with an impressive mark of 14.48 seconds, but missed Meseret Defar's 5km record by only 2 seconds. Dibaba's mark is the second fastest in the history. 
The following places in the race took Dibaba's teammates Gelete Burka and Wude Yimer, who clocked 15:13 and 15:18 respectively.
In the men's race, the US based Kenyan Lawi Lalang took the title with a finishing time of 13:32. Lalang's countryman Wilson Too came in second 13:35, while legendary Bernard Lagat (age 40) finished in third 13:40. With his mark Lagat has set a new world's masters record.
Leading Results
Women's Results:
01) 14:48 Genzebe Dibaba (Ethiopia)
02) 15:13 Gelete Burka (Ethiopia)
03) 15:18 Wude Yimer (Ethiopia)
04) 15:28 Susan Kuijken (The Netherlands)
05) 15:31 Betsy Saina (Kenya)
06) 15:36 Jessica O'Connell (Canada)
07) 15:40 Miyuki Uehara (Japan)
08) 15:48 Sarah Brown (USA)
09) 15:52 Morgan Uceny (USA)
10) 15:59 Juliet Bottorff (USA)


Men's Results:
01) 13:32 Lawi Lalang (Kenya)
02) 13:35 Wilson Too (Kenya)
03) 13:40 Bernard Lagat (USA)
04) 13:50 Sam Chelanga (Kenya)
05) 13:53 Joseph Kitur (Kenya)
06) 13:56 Diego Estrada (USA)
07) 13:59 Haron Lagat (Kenya)
08) 14:11 Ben St. Lawrence (Australia)
09) 14:13 Dan Lowry (USA)
10) 14:13 Andy Vernon (Great Britain)