With the EDP Lisbon Half marathon this Sunday the double Olympic champion Mo Farah will launch his 2015 season.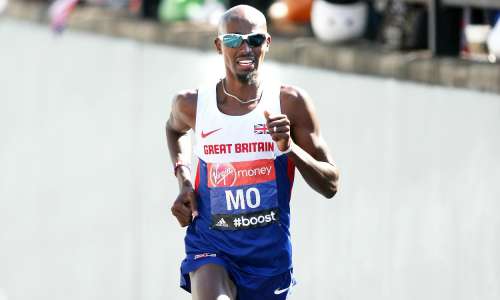 "I'll see how I'll be on the day of the race," he said. "I'm in good shape, as my recent two miles world indoor best proved, but once I'm on the course I'll see if I'm able to produce something special. I'll go with the boys in the front and then we will see."
The race course record is also the world record and was set by Eritrea's Zersenay Tadese in 2010 with 58:23.
The man who breaks the mark will be awarded with €100,000 prize. The fastest man in the race is Kenya's 2008 Olympic bronze medalist Micah Kogo with pb of 58.54.
Another runner among contenders is ethiopia 's Guye Adola, the world half marathon bronze medalist, who holds a pb of 59.06.
Adola's countryman Deriba Merga with a pb of 59.15 is another man on the watchlist. Merga in his running career has cracked 60 min barrier 8 times.
Also we should watch out for Kenya's Silas Kipruto pb 59.39 and 2011 World Championships fourth-place finisher Abderrahime Bouramdane of Morrocco.
The IAAF gold label road race Lisbon Half marathon will kick off on Sunday March 22 at 10am local time.