Kenya's Wilson Loyanae took the top spot at this Sunday's Seoul International Marathon.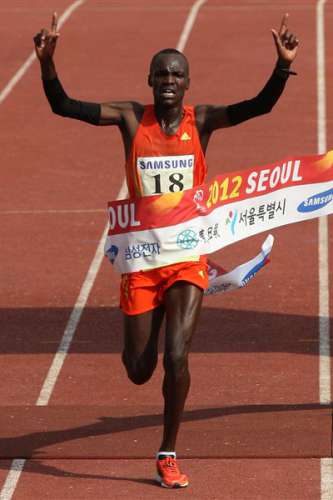 Loyayanae
clocked 2:06.11the fastest winning time in the history of the Soul International marathon.
In 2012 Loyanae set the course rrecord of 2:05:37 and none until today has run faster in this race.
Another Kenyan Felix Kipchirchir Kiprotich improved his personal best by just one minute minute to take second place in 2:06:59, while compatriot Jacob Kibet was third in 2:07:48.
The women's race winner Guteni Shone of ethiopia clocked 2:26:22, while Korean runner Kim Seong Eun was second in 2:28:20. The podium concluded China's Xueqin Wang with a finishing time of 2:28:39.
Men top results
1. Wilson Loyanae (KEN) 2:06:11
2. Felix Kipchirchir Kiprotich (KEN) 2:06:59
3. Jacob Kibet (KEN) 2:07:47
4. Dadi Yami Gemeda (ETH) 2:08:05
5. Abreham Cherkos (ETH) 2:08:14
6. Yakob Jarso (ETH) 2:09:38
Women top results
1. Guteni Shone (ETH) 2:26:22
2. Kim Seong Eun (KOR) 2:28:20
3. Xueqin Wang (CHN) 2:28:39
4. Chao Yue (CHN) 2:29:26
5. Chaltu Chimdesa Kumsa (ETH) 2:30:28
6. Megumi Amako (JPN) 2:34:28