World record holder in pole vault, Renaud Lavillenie, won his 4th straight European Indoor gold medal in Prague on Saturday, March 6.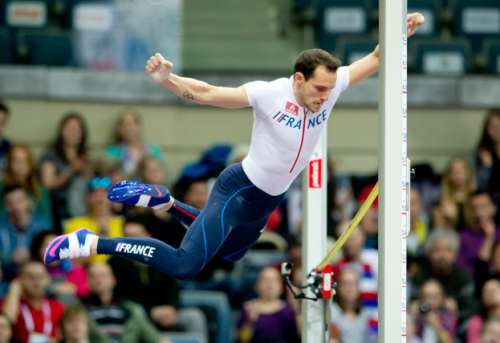 Lavillenie vaulted season's best mark in the world 6.04m to win the pole vault gold medal. The 28-year-old Frenchman has won 4 consecutive European Indoor titles since 2009.
"I'm really, really happy making the championship record. It was a great day for me in Prague today," The 28-year-old Frenchman who has won all European Indoor titles since 2009.
After clearing 6.04m Lavillenie moved the bar to a new world record height of 6.17m, but lucked the power to reach that height in all three attempts.
"I was lacking a bit of energy, and only 99 percent is not enough to do a new world record," said Lavillenie.
Lavillenie's brother Valentine Lavillenie took six place with a mark of 5.56m.
Pavel Maslak in front of his home crowed stormed to a victory in the 400m. Maslak clocked 45.33 seconds, while defending champion Dylan Borlee of Belgium was second in 46.26 and Poland's Rafal Omelko third 46.26 seconds.
Ukraine's Nataliya Pyhyda won the women's 400m in 51.96sec. Spain's Indira Terrero took silver in 52.63 and Britain's Seren Bundy-Davies won bronze (52.64).
Portugal's Nelson Evora won the men's triple jump with a mark of 17.21m.
Turkey's Ali Kaya took the gold in the men's 3000m run clocking 7:38.42, while women's 3000m race won Russia's Yelena Korobkina with a time of 8:47.62.
Another gold for Russian team won Mariya Kuchina, who won the high jump deafeating Italy's Alessia Trost and Poland's Kamila Licwinko. Kuchina and Trost both cleared 1.97m, while world season leader Licwinko cleared 1.94m.
Serbia's Ivana Spanovic took the long jump title with a leap of 6.98m ahead of Germany's Sosthene Taroum Moguenara (6.83) and Romania's Florentina Marincu (6.79).
Hungary' Anita Marton of Hungary won the women's shot put in a national record of 19.23m.