Ethiopian runners Endeshaw Negesse and Berhane Dibaba were crowned champions at this Sunday's Tokyo marathon.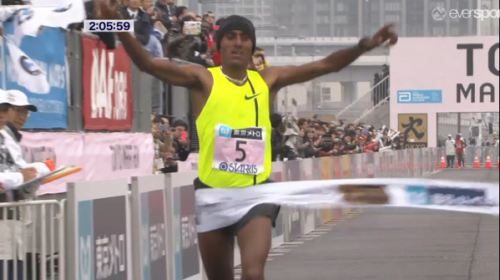 Negesse clocked a time 2:05:59 to win the men's race and to beat Olympic and World Champion Stephen Kiprotich of Uganda, who clocked a personal best and national record time of 2:06:30. The third place took Kenya's Dickinson Chumba who finished right behind Kiprotish in 2:06:32.
The women's Tokyo marathon winner Berhane Dibaba clocked 2:23:15. Kenya's Helah Kiprop clocked a personal best time of 2:24:03 to tak second while Tiki Gelana (ETH) was third with a time of 2:24:26.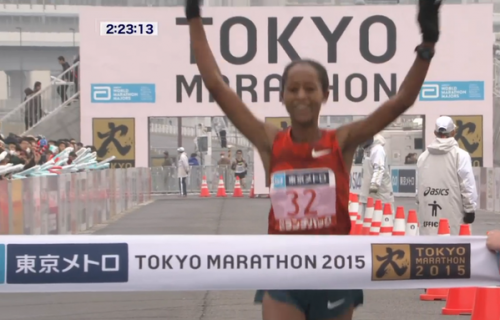 Top 10 Results Tokyo Marathon 2015
Men Top Results
1. Endeshaw Negesse (Ethiopia) - 2:06:00
2. Stephen Kiprotich (Uganda) - 2:06:33 - NR
3. Dickson Chumba (Kenya) - 2:06:34
4. Shumi Dechase (Bahrain) - 2:07:20
5. Peter Some (Kenya) - 2:07:22
6. Markos Geneti (Ethiopia) - 2:07:25
7. Masato Imai (Japan/Toyota Kyushu) - 2:07:39 - PB
8. Tsegaye Kebede (Ethiopia) - 2:07:58
9. Hiroaki Sano (Japan/Honda) - 2:09:12 - PB
10. Benjamin Ngandu (Kenya/Monteroza) - 2:09:18 - PB

Women Top Results
1. Birhane Dibaba (Ethiopia) - 2:23:15
2. Helah Kiprop (Kenya) - 2:24:03 - PB
3. Tiki Gelana (Ethiopia) - 2:24:26
4. Selly Chepyego (Kenya/Kyudenko) - 2:26:43
5. Flomena Cheyech Daniel (Kenya) - 2:26:54
6. Yeshi Esayias (Ethiopia) - 2:30:15
7. Madoka Ogi (Japan/Juhachi Ginko) - 2:30:25
8. Albina Mayorova (Russia) - 2:34:21
9. Yukari Abe (Japan/Panasonic) - 2:34:43
10. Yumiko Kinoshita (Japan/SWAC) - 2:35:49 - PB