Double Olympic champion,Mo Farah, set hi first world record in his running career when he broke Kenenisa Bekele's 2mile world indoor record at the Sainsbury's Indoor Grand Prix on Saturday (21).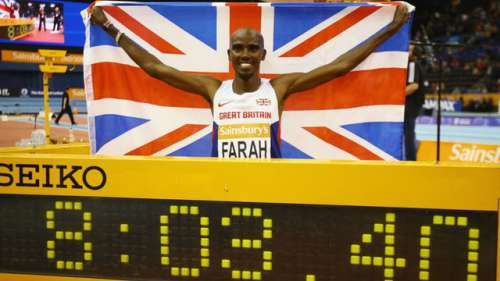 Farah, the reigning world 5000m and 10000m champion clocked 8:03.40 in a rarely run 2-mile race to beat old world record by 1.05 seconds. The old record holder Bekele set the record 7 years ago in the same Arena.
Very impressive was Farah's second mile in the race which he covered in 3:59.5.
In addition, on his route to 2-mile world record, the 31-year old Farah broke British indoor 3000m record 7:33.1.
"Thank you so much everyone for the great support. It's great to do it on home soil with the crowd behind me all the way," Farah told the crowd.
Men 2 miles results
1
Mo FARAH
GBR
8:03.40






WR


2
Paul Kipsiele KOECH
KEN
8:13.46






PB


3
Bernard LAGAT
USA
8:17.05






SB


4
Suguru OSAKO
JPN
8:25.76








5
Thomas FARRELL
GBR
8:26.01






PB


6
Philip HURST
GBR
8:26.56






PB


7
Tom LANCASHIRE
GBR
8:30.79






PB


8
Jonny HAY
GBR
8:31.69






PB


9
Rob MULLETT
GBR
8:32.50






PB


10
Florian CARVALHO
FRA
8:32.87






PB




Dale CLUTTERBUCK
GBR
DNF








Othmane EL GOUMRI
MAR
DNS