Kenya's Julia Muraga, who won the 2014 Cologne marathon, has failed a doping test and has been handed a 2-year doping ban the Athletics Kenya (AK) announced on Thursday.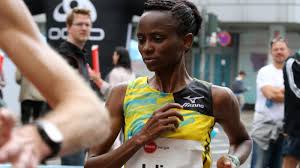 The 30 year old Muraga tested positive for Erythropoietin (EPO) AK told in a statement.
After the German Anti Doping Agency discovered her positive test results. Muraga was stripped of her Cologne marathon title.
The athlete still has a time to appeal the test result.
Muraga is just one of many Kenyan athletes that recently have failed doping tests.
Muraga set a marathon personal best of 2:26:00 in 2008 in Osaka marathon.