• Kuira and Robertson Impress with 59:47 Half Marathon Debut in Kagawa, Japan
Kenya's Paul Kuira and New Zealand's 5000m star Zane Robertson ran a sensational half marathon debut in Kagawa, Japan on Sunday, February 1.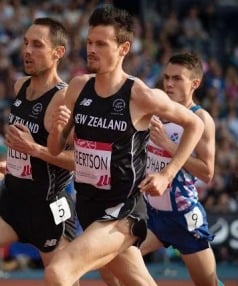 In a thrilling race, the 2014 Commonwealth games 5000m bronze medalist, Robertson, finished in second place behind Kenya's Paul Kuira, at Marugame Half Marathon. Japan based Kuira clocked a time of 59:47min and to set a new course record a new world leading time.
Zane Robertson, who clocked the same time as the winner improved the previous National Record by Rod Dixon in 1981 by 25 seconds. As well Robertson broke the the previous Oceania record set by Australian Darren Wilson of 1:00.02.
The women's half marathon race was won by Australia's Eloise Wellings, who in her first half marathon race clocked 1:10.41. Wellings was followed by Japan's duo Mao Kiyota 1:10:59 and Yuko Mizuguchi 1:11:03.
Top Results Men
1. Paul Kuira (Kenya/Konica Minolta) - 59:47 - CR, WL, debut
2. Zane Robertson (New Zealand) - 59:47 - NR, debut
3. Bernard Koech (Kenya) - 1:00:09
4. Benjamin Ngandu (Kenya/Monteroza) - 1:00:20 - PB
5. Juan Luis Barrios (Mexico) - 1:00:46
6. Jacob Wanjuki (Kenya/Team Aichi Seiko) - 1:00:48
7. Masato Kikuchi (Japan/Konica Minolta) - 1:00:57 - PB
8. Keita Shitara (Japan/Konica Minolta) - 1:01:20 - PB
9. Daichi Kamino (Japan/Aoyama Gakuin Univ.) - 1:01:21 - PB
10. Ken Yokote (Japan/Meiji Univ.) - 1:01:37 - debut
Top Results Women
1. Eloise Wellings (Australia) - 1:10:41 - debut
2. Mao Kiyota (Japan/Suzuki Hamamatsu AC) - 1:10:59 - PB
3. Yuko Mizuguchi (Japan/Denso) - 1:11:03 - PB
4. Eri Makikawa (Japan/Suzuki Hamamatsu AC) - 1:11:04
5. Misato Horie (Japan/Noritz) - 1:11:06
6. Kaho Tanaka (Japan/Daiichi Seimei) - 1:11:12 - debut
7. Hanae Tanaka (Japan/Daiichi Seimei) - 1:11:24
8. Eri Hayakawa (Japan/Toto) - 1:13:02
9. Kikuyo Tsuzaki (Japan/Noritz) - 1:13:16
10. Mei Matsuyama (Japan/Bukkyo Univ.) - 1:13:21 - PB