• Italy's Trost and Fassinotti Win Hustopece High Jump Meet

Posted by:
Watch Athletics
Sunday, 25 January 2015
Italian athletes Marco Fassinotti and Alessia Trost took victories at the first leg of Moravia high jump tour that took place in Hustopece in Czech Republic on Saturday January 24.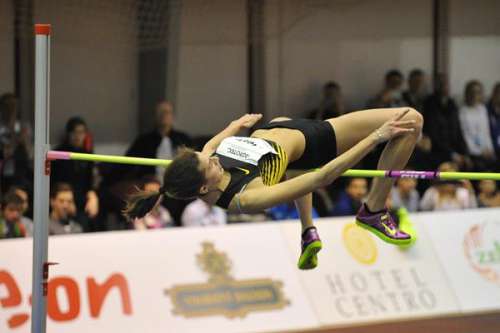 World indoor leader in high jump Marco Fassinotto won the men's contest with a new personal best mark of 2.34m. Fassinotti left behind world indoor championships bronze medalist Andrij Protsenko 2.30m of Ukraine and countryman Silvano Chesani who cleared 2.30m.
The women's contest won Alessia Trost with mark of 1.96m and manged to beat three time World championships medalist and 2-time European champion Ruth Beitia of Spain. Beitia cleared 1.94m and settled in second, while Lithuania's Airine Palsyte with a mark of 1.92m was third. Trost's winning mark is a new world lead for women so far in 2015.
Top Results Men
| | | | | | |
| --- | --- | --- | --- | --- | --- |
| 1 | 1989 | Fassinotti | Marco | ITA | 234 |
| 2 | 1988 | Protsenko | Andrij | UKR | 230 |
| 3 | 1988 | Chesani | Silvano | ITA | 230 |
| 4 | 1984 | Bába | Jaroslav | CZE | 228 |
| 5 | 1991 | Mastoras | Adónios | GRE | 225 |
| 6 | 1994 | Ivanov | Tihomir | BGR | 225 |
| 7 | 1989 | Bednarek | Sylwester | POL | 225 |
| 8 | 1983 | Williams | Jesse | USA | 225 |
| 9 | 1991 | Harris | James | USA | 222 |
| 10 | 1984 | Parsons | Tom | GBR | 218 |
Top Results Women
| | | | | | |
| --- | --- | --- | --- | --- | --- |
| 1 | 1993 | Trost | Alessia | ITA | 196 |
| 2 | 1979 | Beitia | Ruth | SPA | 194 |
| 3 | 1992 | Palsyte | Airine | LIT | 192 |
| 4 | 1982 | Heraschchenko | Iryna | UKR | 187 |
| 5 | 1997 | Levchenko | Yuliya | UKR | 187 |
| 6 | 1994 | Rossit | Desireé | ITA | 187 |
| 7 | 1986 | Marešová | Oldřiška | CZE | 184 |
| 8 | 1992 | Haas | Eleriin | EST | 184 |
| 9 | 1990 | Yuksel | Burcu | TUR | 184 |
| 10 | 1982 | Holosha | Olena | UKR | 180 |