The organizers of London London marathon have prepared a special treat for the marathon fans, as the world marathon record holder, Dennis Kimetto, and defending champion, Wilson Kipsang, will race each other on the streets of London on April 26.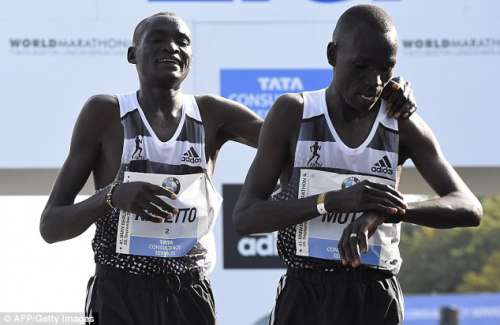 In September, Kimetto shaved off 26 seconds from Wilson Kipsang's world marathon record to win Berlin marathon with in an impressive 2:02:57. For Kimetto it will be a debut race at London Marathon.
"I broke Wilson's world record in Berlin last year and now I want his London Marathon crown," said Kimetto.
"I am relishing the chance to face my friend over the famous course. I know it won't be easy, but I am confident I can go the distance whatever he throws at me."
The former world marathon record holder Kipsang, will be looking to win his third London marathon title after his wins in 2012 and 2014.
"London always has the best fields, but with Dennis in the line-up this year it promises to be a bruising battle," Kimetto said.
"I certainly won't give up my title without a fight, but let's see who has the knock-out blow."
"Having the current and former world-record holders in the same race for the first time, is a real coup for us on our 35th anniversary, and a thrilling prospect for marathon fans." Race director Hugh Brasher said on Thursday.
World record holder in 5000m and 10000m, Kenenisa Bekele, will also race on April 26 said race director. Bekele won Paris marathon last April in his marathon debut and finished 4th in Chicago later in September.
Another high profile marathoner, Emmanuel Mutai, will be on the line at the London marathon. Mutai clocked 2:03.13 the history's (official) second fastest time in September in Berlin when he finishing behind Kimetto.
Men's Elite Runners - London Marathon 2015

Wilson Kipsang (Kenya) 2:03:23
Dennis Kimetto (Kenya) 2:02:57
Emmanuel Mutai (Kenya) 2:03:13
Eliud Kipchoge (Kenya) 2:04:05
Ayele Abshero (Ethiopia) 2:04:23
Sammy Kitwara (Kenya) 2:04:28
Tsegaye Mekonnen (Ethiopia) 2:04:32
Stanley Biwott (Kenya) 2:04:55
Kenenisa Bekele (Ethiopia) 2:05:04
Tilahun Regassa (Ethiopia) 2:05:27
Samuel Tsegay (Eritrea) 2:07:28
Serhiy Lebid (Ukraine) 2:08:32
Aleksey Reunkov (Russia) 2:09:54
Ghebrezgiabhier Kibrom (Eritrea) 2:10:00
Marcin Chabowski (Poland) 2:10:07
Koen Raymaekers (Netherlands) 2:10:35
Scott Overall (Great Britain & NI) 2:10:55
Michael Shelley (Australia) 2:11:15
Javier Guerra (Spain) 2:12:21
Steve Way (Great Britain & NI) 2:15:16
Christian Kreienbühl (Germany) 2:15:35
Pedro Ribeiro (Portugal) Debut