World's currently top high Jumper, Essa Mutaz Barshim, of Qatar says breaking the world high jump record is not his main goal, but he thinks it will fall 'sooner or later.'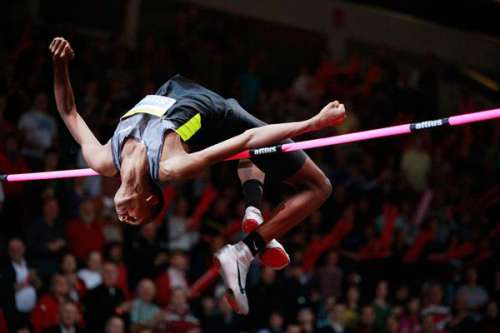 " World record - It is not my goal. It is not something I even think about. " The 23-year-old told Yumpu magazine. " I'm focused on improving, developing. Braking record will come sooner or later - or maybe never. For me there is something more important: I need to be able to say that I always gave the best." he added.
(World high jump record belongs to Cuba's Javier Sotomayor 2.45m in 1993.)
Last season Barshim set his Personal best mark of 2.43m at the final stage of Diamond league series in Bruxelles on September 5. His first major title Barshim won at the World indoor championships in Sopot, Poland in March.
One of the greatest moments of the last season Mutaz Barshim recalls the medal ceremony at the Asian games in Chincheon. Barshim won gold, while his brother, Aissa Muassim Barshim, took bronze.
"It was a great feeling standing on the podium together. I hope it's something we can repeat at Olympic games."
Mutaz Essa Barshim will compete in four indoor meetings in February: anska Bystrica indoor high jump competition with music in Slovakia on 4 February, Moravia High Jump Tour in Trinec, Czech Republic on 8 February, then in the Irish town of Athlone on 18 February and in Malmo, Sweden, on 25 February where he will conclude his indoor season.
-->